Runways to become "uncontrolled" due to federal budget cuts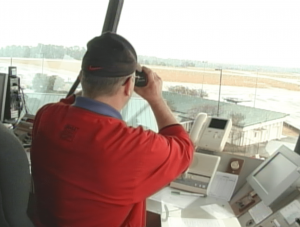 Athens, Ga (GradyNewSource.com) – When federal budget cuts close nearly 150 air traffic control towers at airports nationwide, the two runways at Athens-Ben Epps airport will become "uncontrolled." Pilots will need to work it out amongst themselves to determine when aircraft will land and take-off.
"There's no question that operating at a controlled airport is safer than operating at an uncontrolled airport. The name itself implies a safety risk," says Bill Hendricks, an Athens air traffic controller. "It's not just about my job, it's about what I know can happen when I don't do my job."
Pilot Cliff Timmons agrees. "I won't feel safe because I feel there's always going to be people flying into and out of this airport," Timmons says as he flew Grady NewSource cameras Wednesday. "To be honest with you, I won't ever fly in the pattern here again. This is a busy airport to me."
Young pilots like Timmons often fly in a circular pattern around the airport completing practice landings and take-offs.
Matt Hammond, a University of Georgia Aviation Club member who also flew Wednesday, says he is concerned if multiple student pilots are practicing in addition to commercial air traffic the air space over the airport could become very difficult to navigate. Timmons and Hammond agree that Athens-Ben Epps airport, which has operated a tower for about 20 years, is in for a challenge when pilots from across the region arrive for the first Georgia football game this fall.
Athens-Clarke County Mayor Nancy Denson insists safety will not be comprised when the tower staffing leave.
"There are standards in place for visual and radio guidance," Denson says by phone. "Our airport is going back in and reviewing these and making sure everyone is familiar with them. So when we do have to go to that we won't have to compromise the safety of our airport."
Neither the University of Georgia's Athletic Department or university administration were prepared to talk about a possible safety risk regarding planes flying in Athen's gameday airspace, which is temporarily restricted to protect the 97,000 in Sanford stadium. University of Georgia Vice President Tom Jackson says President Michael Adams and others will continue to utilize the airport even after it becomes an uncontrolled airfield. A spokesperson for the Athletic Department says they plan to continue their flights as well but will monitor the situation.
During his phone interview, Jackson says he remembers a time when the tower would be temporarily staffed during busy days such as gamedays. There is currently no plan to do such and when asked if the Athens government would fund any restoration of tower services, Denson said: "I don't remember the figures… but they were pretty significant and we're on a very tight budget. And we just really don't have the luxury of having the money to subside that at the moment."
The FAA, which had planned to close the tower in April, has delayed the closing until June 15 because of legal challenges nationwide.
Kylie Plaxico, Cory James and Emily Turk contributed to this report