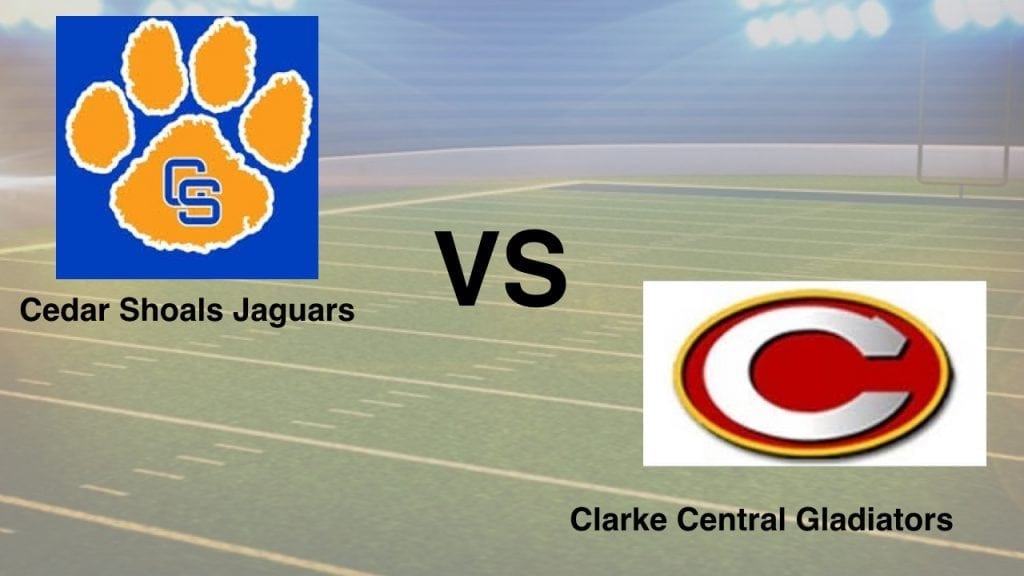 A football rivalry forty-two years in the making where either the Clarke Central Gladiators or the Cedar Shoals Jaguars will claim the city championship this Friday night at 7:30 pm.
Close rival is an understatement because when plugging the two schools into the maps app on your phone the distance is 5.3 miles apart. The schools are close but Cedar Shoals will have home field advantage. During the first month of play, Cedar Shoals has a 3-1 record but Clarke Central is looking to improve its record of 2-2.
David Perno, head coach for the Gladiators is familiar with the rivalry in a different way. He is now head coach at his alma mater high school so he sees the rivalry from both a players standpoint and now a coaches.
"If we get too caught up in the rivalry, or too caught up in Cedar Shoals is going to do this, we are going to forget what we need to do and take care of us." Coach Perno says his team is, "capable of beating anyone anywhere if we play the type of football we are capable of."
He also said the team has had a "few too many personal fouls" which could pose quite an issue when playing a close opponent.
Perno spoke his concern, "We get a little too chippy at times. This is a game that emotions can get carried away. We gotta pull kids out of there if we see it start to escalade."
The one big advantage Cedar Shoals has is home field advantage in Waters-Wilkins Stadium. Leroy Ryals, head coach for the Jaguars says that the stands could be filled with both teams fans but that his team still feels the excitement.
Ryals says, "There's a lot of distraction for them. They are excited, maybe a little too excited to be honest."
Coach Ryals also has an interesting view of the rivalry because he coached for Clarke Central for nine years, but by seeing both sides of the rivalry it has helped him keep his team focused.
"Try to teach them to play some football," expresses Ryals, "The rival is the rival. The rival was here a long time before I was here and a long time after I leave. We know the emotion will be high and we will worry about that when we come to it."
Clarke Central has won the last 8 match-ups against Cedar Shoals, but with each team having a new head coach this year the turnout is unpredictable.
By: Jessi Young