If you hear a bellowing laugh and see welcoming smiles as you walk towards the Athens-Clarke County Board of Elections building on a Tuesday night, you know you're in the right place.
Rashe Malcolm, a sociable and energetic Athens resident and business owner will greet you as a long-time friend as you walk past local Athens vendors sprinkled around the intersection of College Avenue and Washington Street in the heart of downtown. She will tell you about the myriad of interesting products you can buy at the market—some that you can't find anywhere else.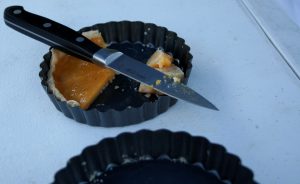 You can get everything from fresh produce to homemade soaps to fresh baked pastries, and even, cantaloupe pies.
Every Tuesday since April 2, 2019, Athens vendors from all walks of life set up shop at The Culinary Kitchen of Athens's Downtown Culinary Showcase. It features new and established vendors alike, none of which have permanent brick and mortar stores.
Many though are looking for permanent homes for their businesses that aren't in their kitchens or basements.
Room for expansion
Many vendors are looking for ways to expand their businesses, and similar to other businesses, increase their revenues. The vendors all have cottage foods licenses which allows them to sell "non-potentially hazardous foods that don't require time and/or temperature control for saftey," according to state regulations provided by the Georgia Department of Agriculture.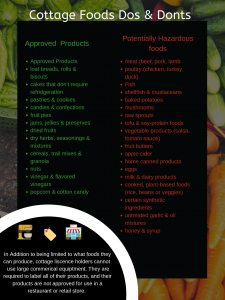 This means the vendors are allowed to produce a limited number of consumable items and are limited in the ways they can sell their items.
By having a permanent kitchen space outside their homes, vendors can produce more goods, which in turn creates more potential revenue streams. Rashe Malcolm created The Culinary Kitchen of Athens to help these aspiring vendors accomplish their dreams of acquiring a permanent location.
Rashe has indirectly raised money for aspiring vendors through Culinary Kitchen of Athens. For example, Rashe has hosted philanthropic events, such as the Comedy Benefit Show, in the hopes of opening a shared, affordable incubator space for Athens food businesses.
"It is sink or swim, unless you have been able to build up enough streams of revenue," says Rashe. She hopes to teach new businesses how to survive in a foodie's town where attention spans are fleeting, and new businesses open every day.
"You don't have to go outside of what you do, but you can still have several streams of revenue. For instance, he is a farmer, so it is natural that he goes to farmer's markets, but when he goes into a commercial space, he can now take his product and create preserves. Then he can connect with restaurants and others," said Rashe.
Diversity of vendors is important to Rashe. She doesn't want too many vendors selling similar products, so The Culinary Kitchen is more of a community rather than a battlefield.
Rashe has found a diverse pool of vendors, from college students, to business owners, to retirees.
Businesses Helping Businesses
Trent Wallace, a University of Georgia student who is graduating May 2019, is sponsoring The Downtown Culinary Showcase through his company Cosmic Delivery.
Cosmic Delivery, an Athens food delivery service, covers 45 to 47 local restaurants and opened in March 2016. Trent started taking part time classes so he could open Cosmic Delivery, now staffed with 70 drivers and 10 office employees. Through its efforts of supporting local businesses, Cosmic Delivery is helping grow The Culinary Kitchen.
Cosmic Delivery helps with marketing, buying new materials, and public outreach. They recently set up a kids corner at the showcase. Rashe is able to keep down the cost for participating vendors because of their support.
It costs $25 for the vendors to set up shop on the sidewalk outside city hall with Rashe on Tuesdays, similar to other local market fees. For example, West Broad Farmers Market vendor fees are $10 per market and Athens Farmers Market fees are $30 per market.
Rashe said she tried to keep the fees as low as possible while still sustaining and contributing towards future goals of The Culinary Kitchen.
"The money we raise literally goes to helping us with the capital we need to open up the spaces," said Rashe.
Even though the Downtown Showcase is still in its infant stages, Rashe says they are not trying to compete with the other markets.

"We are not trying to be another market. We are trying to be the Culinary Kitchen. We are trying to make sure that our vendors have economic opportunities outside of regular markets," said Rashe.
Transplanted Gardeners Grow Their Roots
Rita and her husband Robert moved to Athens from Michigan in November 2017 and are currently kicking off their second growing season at R&R Secret Farm.
"Getting a farm going is a lot of work, but we haven't really come into any significant issues that we didn't anticipate," said Rita, who has spent over ten years working in local food systems and trains others at gardening and farming workshops.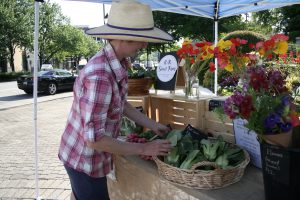 Currently, Rita and Robert O'Brien, are working towards participating in more local markets to increase their customer base, which is how they met Rashe.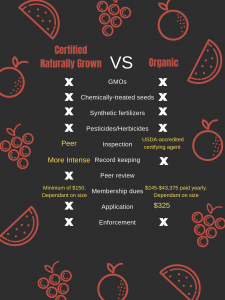 When Rita met Rashe at the West Broad Farmer's Market last year, she heard about The Culinary Kitchen and wanted to become a member vendor in the hope of using the future incubator space. Rita wants to make products out of veggies grown at her small, certified-naturally grown farm.
According to their website, certified-naturally grown farms are similar to certified-organic farms, except membership fees and other evaluative methods are easier for smaller farms to handle.
For now, R&R Secret Farm is looking forward to "getting more of my stuff in the ground and having homes for all of the stuff that I grow," said Rita.
Oh, and they're looking forward to meeting new people.
Adrienne Solves a Problem
When Adrienne Freeman Chappell went to the doctor years ago with patchy discolored skin on her face and chest, they said they couldn't help her. Her skin burned when she sweat in the frequently sweltering Georgia sun. Unfortunately, doctors had no solutions for her.
So, Adrienne prayed.
"I was told, spiritually, I know, to look at the walls of the Bible, and that's what I did," says Adrienne. She found essential oils and herbs, such as lavender, rosemary, peppermint, and many others which were beneficial to her skin.
After researching how they worked and the best ways to combine them, she started concocting her own lotions and salves utilizing plants she grows in her personal garden.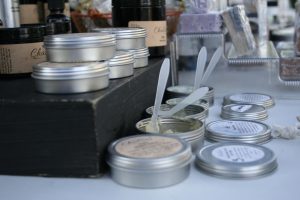 After years of creating lotions, salves, shave creams, and shampoos for herself and friends, Adrienne opened Chalises in August 2013 to share her cosmetics with others. She now scoffs at the doctor's answer of 'no solution' for her, because she found through her studies "a lot of things that help, it is not just cosmetic, it is not just smell good stuff, it is for a purpose."
She now sells her products at the West Broad Farmers Market, The Culinary Kitchen's Downtown Showcase, and other Atlanta and Athens area venues.
Her involvement with the Culinary Kitchen is different than other vendors. Adrienne does not sell food, unlike the food-focused Culinary Kitchen.
Yet, when The Kitchen opens its space downtown, Adriene would happily erect a stall.
John Follows his Passion—Part-Time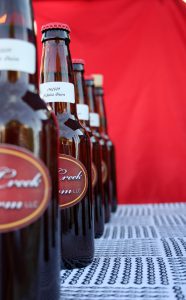 John King and his wife, Jenny, own a 36-acre farm with over 20 chickens, one horse, one cat, and two dogs. He also owns Apis Group, a messaging and product development firm.
But his passion is selling vinegars he and Jenny bottle at their farm.
John and Jenny have been selling their vinegars at Athens-area farmers markets for the last couple years, which is how they met Rashe. She told the King's about her idea of The Culinary Kitchen, and they decided to hop aboard, as John likes the plan of growing his business with the help of The Kitchen.
Similar to many Athens residents, John and Jenny love good food.
Jenny has to be mindful of her diet. "I have a lot of food allergies, and I really have to watch it. There's a lot of additives in food," said Jenny.
So, she experiments.
A space in The Culinary Kitchen allows the Kings to obtain a commercial license. With a commercial license, Jenny can sell her masterpieces, such as cappuccinos with no additives, and sun-dried tomato pesto made with the tomatoes fresh from her garden.
And, let's not forget chocolates that would normally melt in the hot Georgia sun.
"I can make a mean truffle," said Jenny, "and I have my own recipe for turtles."
John admits that he also enjoys the social aspects of meeting new people on beautiful afternoons at the Downtown Showcase.
"We socialize, we get to know all of the different vendors out here, and different people walking down the street. We learn how people think differently about the community, what they want for the community, and what they like and don't like about food," says John.
The vinegars they create can be used on a variety of foods from salads to chicken to bread, and if you ask, John and Jenny will be more than happy to give you one of their recipes. But, they are always excited to hear what others have concocted.
The Palmers Go Back to Childhood
On Easter Sunday, Mark Palmer led his last church service.
"Out of the Winter Market emerged opportunities for us to go full time. So as of May 1, we will be full time with Grands Designs. It happened a couple of years earlier than we had planned," said Ronda Palmer. "Doors opened up that we had to decide to go through or not go through. We went through, and we love this."
In May 2016, Athens natives Ronda and Mark Palmer created Grands Designs after their family made a proposition.
"My family said, 'why don't you make some cutting boards and see if you can sell them,'" said Mark. "So, I made 14. I posted them to Facebook on Friday, and by Monday, they were all sold. That was the beginning."
Mark, a life-long woodworker, learned from his carpenter dad how to create furniture, cutting boards, and other objects with just a band saw and a couple pieces of wood. At the moment, Grands offers cutting boards, serving boards, coaster sets, and over 60 different designs of hand cut and hand painted ornaments and magnets.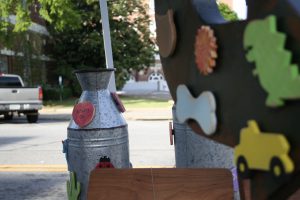 Although woodworking is Mark's passion, Ronda has found her part.
The ornaments "led to Rhonda painting. She hadn't painted since she was a kid, but she figured out it was something she really loved," said Mark, also known as Grands by his two grandsons.
Mark, free of charge, wood burns names onto the ornaments and magnets, but they also offer for kids to write their name in pencil first, so Mark can permanently trace it into the wood. It is a perfect timestamp.
Although the Palmers will not be needing a vendor space once the Culinary Kitchen incubator opens, they see Rashe's commitment.
"As far as Rashe goes, we love her. We think she is amazing. We love her passion for what she is doing here," said Ronda.
Ronda and Mark met Rashe at The Culinary Kitchen's Winter Market and jumped at the multitude of opportunities to share their work with the community.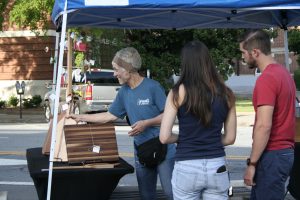 "We love being a part of the Culinary Kitchen of Athens Downtown Showcase. Being born and raised here in the city, we're very much about local. We love seeing what is happening," said Ronda.
And according to Mark, the more introverted of the two, Ronda loves meeting new people.
"Another reason we both personally love it, is because we get to meet people. We've created so many lovely new friendships," said Ronda.
"Buying from each other and supporting each other is so sweet. My husband likes to get the vinegar, and last week he surprised me with flowers, and Rashe just bought some coaster sets."
A Couple of Things Left To Do
There are a couple of things that need to happen before The Culinary Kitchen space can open. Rashe is currently waiting to finalize the lease for the space in the next couple of days, but before they can open their doors to the vendors and the public, they are expecting to completely rebuild the inside, undergo rigorous inspections, and they have to choose which vendors will make the cut.
Because of the Winter Market, Rashe said she started off with more vendors than she could handle to host, but now, in peak market time, many are disappearing because there are so many more opportunities in the summer.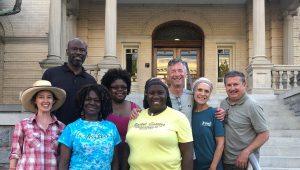 But, The Culinary Kitchen of Athens is not trying to be a market. It offers market experiences, yes, but their main goal is to provide vendors with more opportunities to increase capital through the shared space.
"We're the few and faithful, so how do we move forward?" said Rashe.
They keep working toward opening the space and leaning back on each other and their community when times are rough.
"If my community doesn't have money to pay for my food and my services, I don't have a business," said Rashe.
So, odds are, the ones who are around now will continue to be, and will be the first vendors with spaces in The Culinary Kitchen of Athens.
Rashe and her team are hopeful to get the space up and running by 2020, but she says she may be overly exuberant.
But that is what makes her the right person for the job, because she will befriend any person she meets, and will hug you good bye as you walk away from the Showcase with your treasures and sweet treats.
Taylor Morain is a junior majoring in journalism.