ATHENS, Ga.– This week marks the 21st week of continuous severe drought in northeastern Georgia. Due to worsening drought conditions in about three-fourths of the state the Georgia Environmental Protection Division (EPD) of the Georgia Department of Natural Resources has declared a raise the state's drought response to Level 2 in 52 counties and has imposed a Level 1 Drought Response in an additional 58 counties.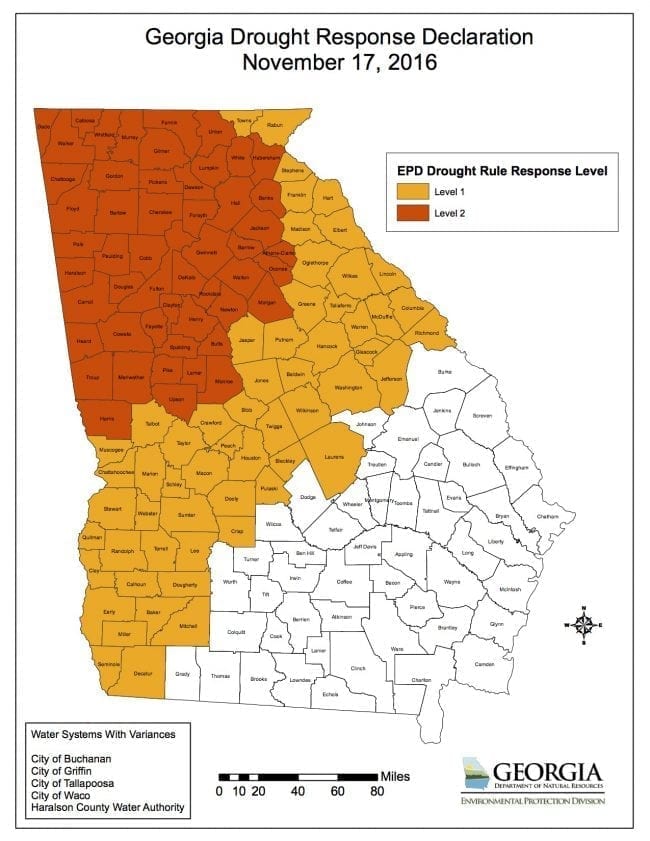 Those counties assigned a Level 2 Drought Response are: Banks, Barrow, Bartow, Butts, Carroll, Catoosa, Chattooga, Cherokee, Athens-Clarke, Clayton, Cobb, Coweta, Dade, Dawson, Dekalb, Douglas, Fannin, Fayette, Floyd, Forsyth, Fulton, Gilmer, Gordon, Gwinnett, Habersham, Hall, Haralson, Harris, Heard, Henry, Jackson, Lamar, Lumpkin, Meriwether, Monroe, Morgan, Murray, Newton, Oconee, Paulding, Pickens, Pike, Polk, Rockdale, Spalding, Troup, Union, Upson, Walker, Walton, White and Whitfield.
During a Level 2 Drought Response, outdoor landscape watering is only allowed two days a week determined by odd and even-numbered addresses. Even-numbered addresses and properties without numbered addresses may water on Wednesday and Saturday between 4:00 p.m. and 10:00 a.m. Odd-numbered addresses may water Thursday and Sunday between 4:00 p.m. and 10:00 a.m.
Prohibited outdoor water uses include:
 Washing hard surfaces such as streets and sidewalks.
 Water for ornamental purposes, such as fountains.
 The use of fire hydrants, except for firefighting and public safety.
 Non-commercial washing of vehicles.
 Non-commercial pressure washing.  Fundraising car washes.
Those counties assigned a Level 1 Drought Response are: Baker, Baldwin, Bibb, Bleckley, Calhoun, Chattahoochee, Clay, Columbia, Crawford, Crisp, Decatur, Dooly, Dougherty, Early, Elbert, Franklin, Glascock, Greene, Hancock, Hart, Houston, Jasper, Jefferson, Jones, Laurens, Lee, Lincoln, Macon, Madison, Marion, McDuffie, Miller, Mitchell, Muscogee, Oglethorpe, Peach, Pulaski, Putnam, Quitman, Rabun, Randolph, Richmond, Schley, Seminole, Stephens, Stewart, Sumter, Talbot, Taliaferro, Taylor, Terrell, Towns, Twiggs, Warren, Washington, Webster, Wilkes and Wilkinson.
A Level 1 Drought Response requires that public water systems implement a public information campaign that includes, at a minimum, public notice regarding drought conditions and drought-specific public service messages in one or more of the following ways: newspaper advertisements, bill inserts, website homepage, social media, and notices in public libraries.
The following activities are allowed under both Level 1 and Level 2 Drought Responses:
 Irrigation of personal food gardens may be done at any time of day.
 Irrigation of new and replanted plant, seed, or turf may be done at any time of day for 30 days after installation.
 Drip irrigation or irrigation using soaker hoses may be done at any time of day and hand-watering with a hose with automatic cutoff or handheld container may be done at any time of day.
 General landscape watering may be done between 4:00 p.m. and 10:00 a.m. on the designated days.
For more water conservation information click here.
By: Kendall Meissner