ATHENS, Ga—There's a new playground in town, but its popularity is causing parking problems for parents.
"[This is] my second time," said Tyler Ferguson. When asked what his favorite thing about the new World of Wonder playground at Southeast Clarke Park Ferguson paused before he said "the slide."
The World of Wonder isn't a completely new thing to Athens—its predecessor of the same name has been a favorite of local kids for nearly 12 years.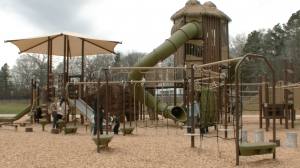 "The original WOW was very popular, it was a regional destination playground," says Melinda Cochran, Division Administrator for the Department of Leisure Services.
Park Planners were hoping the new playground would be as popular as the original, but they were still surprised by the response they got after the park opened.
"It's a good thing to have, we just weren't anticipating this many people being excited." said Cochran.
The excitement has only been helped by the warm weather, but the parking lot is having trouble keeping up with the numbers of visitors the playground is getting. During after school hours and weekends, the lot closest to the playground is usually packed.
"[Parking] seemed fine," said Hannah Johnson from Bogart, who brought her two daughters to World of Wonder on an overcast Monday afternoon, "I'm sure it gets crowded on the weekends."
Southeast Clarke Park has a second lot visitors can use on busy days, but its nearly half a mile away from the playground. Parents and their children have to walk down an unpaved nature trail to reach the World of Wonder.
"There's some improvements we can do to get people from the other side of the park," said Cochran.
That's only a temporary solution to the problem however. The long term plan is to expand the size of the playground's parking lot. The expansion would rest where the old World of Wonder still stands today, but that won't be the case for much longer.
"We replaced it because it was really at the end of its life cycle," said Cochran.
The old playground will be torn down in the next few weeks. After that, park planners will begin looking at allocating funds for the parking lot. As of now, there is no time table for the expansion.
By: Grace Holland