By Kalyn Wilson
The recent storms in Northeast Georgia left hundreds of residents without power. Ashley Stukes, media representative for Georgia Power, updated Grady Newsource on when to expect power to be restored in the remaining affected areas.
Only two small outages remain in Athens as of 4:15 p.m., Winterville and near Jefferson Boulevard, according to Stukes, and these areas are expected to be restored by 4:45 p.m.
"Less than 475 customers are currently affected by outages within the Northeast Georgia area," said Stukes around 11 a.m. "We expect most of the outages in Northeast Georgia to be restored mid-day today but some will take a little longer."
More information on outages in the Athens area, including Bogart, Jefferson and Winder, can be found at www.GeorgiaPower.com/Storm.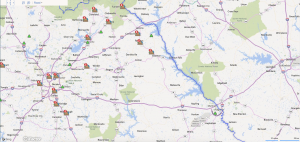 Stukes suggests taking certain precautions to stay safe and comfortable in case more bad weather hits.
"Cool or heat your house," said Stukes. This helps to set a comfortable temperature in your home that can be maintained for 48 hours with windows and doors closed during and after a storm.
Stukes also warns to charge phones and other portable devices and to keep freezer doors closed and sealed to ensure you have communications and spare food during an outage.
"Disconnect or turn off any appliances that will start automatically when power is restored," he recommended, to make sure that circuits will not overload or cause a fire.
Also, leave a porch or front light on to notify officials when repair work is successful.
For more tips on dealing with a power outage, visit http://georgiapower.com/in-your-community/storm-center/before/prepare-home.cshtml.