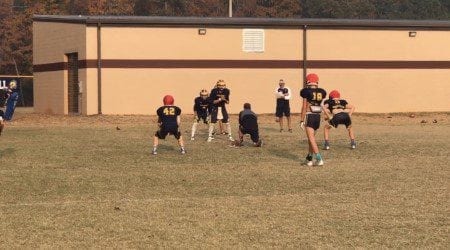 Nicholas Brown is 6'1″, 180 pounds and a senior at Prince Avenue Christian High School. He is a tight end for the football team and has made it to the playoffs his last three years. Three years of almost winning it all but not taking home the title. This year is his last chance.

"We're going to do the best we can to just dominate," Brown offers.
Brown isn't alone. Chandler Smith was there every one of those three years when Prince Avenue Christian H.S. was sent home without the state title. Smith wants to use Friday night's game to see if he and Brown can come home winners, but it will be tough.

"I'm just ready to see how good we actually are as a team," says Smith.
Josh Cartey is right there with them. The safety wants to win his final year just as badly as Brown and Smith. He says that it's about more than just the seniors on the team.

"The crowd, the enthusiasm, the thrill of the game, and coming out with a W at the end," says Cartey.
These seniors and the rest of the Prince Avenue Christian football team will take on Mount Pisgah Christian School Friday at 7:30pm.
By: Maghen Moore
Follow us at Twitter, Instagram, and Facebook @gradynewsource.