By Shaunteri Skinner
The Athens Land Trust (ALT) will build a 15-home subdivision in East Athens this month. Work will begin with three homes, followed by two more in spring 2016 on Waddell Street.
The organization works to rehabilitate houses in the Hancock Neighborhood, which extends from the downtown Athens area through the St. Mary's Hospital area and the Brooklyn neighborhood off of Hawthorne Avenue. It worked on several single-family homes in the past in East Athens, including 51 Dublin, 125 Stanelle, and 130 Andrea.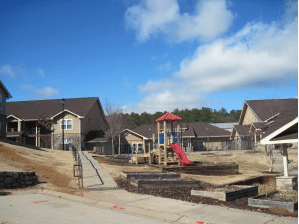 "We've built and rehabbed some vacant homes that were then sold to low- to moderate-income families in Athens at an affordable price," said David Ogunsanya, Land Trust housing director. "Those homes will stay affordable for generations to come so that it not only serves the family living there now, but it will also serve the family after that and after them."
The Athens Land Trust received tax credits from the
Georgia Department of Community Affairs
to build Fourth Street Village, a 120-unit development that will provide additional affordable units for low-income residents. Construction on this project is complete and residents are moving in. Homes will be "permanently affordable and owner occupied," Oygunsanya said. According to the ALT, the Hancock Neighborhood area is being threatened by real estate investors and university students. Property taxes skyrocketed which forced families to move out. The ALT wants to preserve the culture of this historically African-American community and also keep a mixed-income community.
Available properties are found on their
website
along with volunteer opportunities and events that involve the organization.