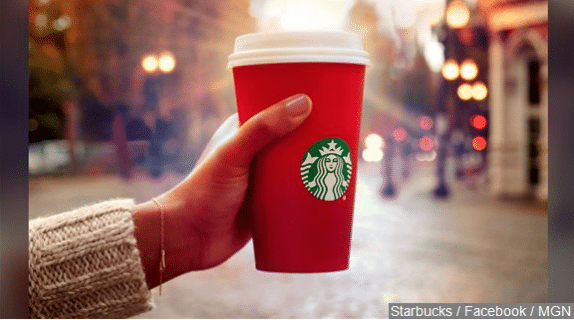 By: Chelsea Beimfohr
It's the beginning of November and the holiday season has officially kicked off. Department stores have busted out the decorations, Black Friday sales are just around the corner, and holiday treats are back on the menus of bakeries and coffee shops across the country.
The coveted holiday cup and drink menu returned to monster coffee chain, Starbucks, at the beginning of November. But this year something was a little different.
Since 1997 Starbucks has served its holiday beverages in a unique cup, starting with a jazz-themed design in jewel tones of deeper reds, greens and blues. Every year since, the cup has told a story of the holidays by featuring symbols of the season from vintage ornaments and hand-drawn reindeer to modern vector-illustrated characters.
But the cup design for 2015 holiday season is anything but unique. When customers began to order their peppermint mochas and chestnut praline lattes this year, they were handed their coffee in a simple red, two-toned cup.
"I definitely noticed a difference in the cup design from the year before when I began ordering holiday drinks this season," said UGA student and Starbucks gold card member, Sara Cobb.
But whats the reasoning behind the change? "In the past, we have told stories with our holiday cups designs," said vice president of design and content for Starbucks, Jeffrey Fields. "This year we wanted to usher in the holidays with a purity of design that welcomes all of our stories."
This simplicity of the cup sparked controversy around the world. Some Christians are annoyed that the plain design doesn't showcase Christmas symbols, therefore taking away from the spirit of the holiday.
The debate even spilled over into the political sphere, with figureheads like Donald Trump expressing his views on the issue.
Trump went on to say that if he's elected president everyone will be saying "Merry Christmas" again.
In the nearly two decades since the first red Starbucks cup, the company has grown from 1,400 stores in a handful of countries to more than 22,000 stores in 68 markets around the world.