Compassion International connected Athens residents with kids from South America, Africa, the Caribbeans, and even Asia all in one weekend. They're looking to connect even more residents to children worldwide.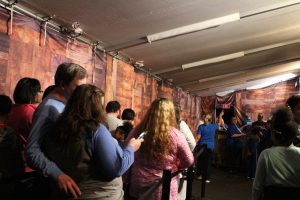 Compassion International came to Cornerstone Church Athens and ushered a walk-through in which attendants went through a twenty-minute visual presentation. Through an audio recording, they heard the stories of two deprived children living in two deprived countries.
The stories consisted of Ruben, a boy growing up in Bolivia, who found himself digging through dumpsters to find food because he was unaccepted by his abusive father's family. And a girl named Julian from Uganda, who raised her sisters and was afraid she'd have to use her looks to support them financially.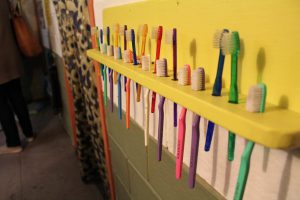 Participants walked through different rooms that resembled the living conditions the poverty-stricken children lived in and what changes came once they became a Compassion child. Finally, they watched a video of the actual children that the stories were based off, and Ruben and Julian gave their testimonies on how Compassion changed the course of their life.
At the end of the visual experience, participants were told they too could be the ones to change a child's life if they sponsored a child.
Compassion International is a Christian-based humanitarian aid organization that receives monthly donations from sponsors that agree to fund children living in poverty. Its goal is to free the children from their spiritual, economic, social and physical poverty, the organization's Facebook page said.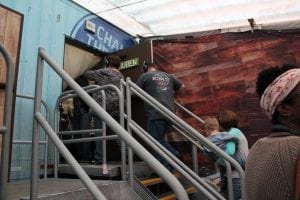 The organization is partnered with churches and denominations in low-income countries worldwide to find children whose families are most economically devastated.
"Everything comes so easy for us here, and for them, it's such a different world for them," said Liz Clark, who said she felt compelled to sponsor a child after Cornerstone Church's Compassion-centered Sunday service.
Compassion International offers the sponsors multiple ways to contact their sponsored child. While the organization encourages sponsors to write letters and send presents to the child, they also arrange group-sponsored or individual visits to their sponsored child's country.
While the Christian-based organization is international, it only reaches out to local churches, which Ryan Worsley, executive administrator of Cornerstone Church Athens, said is one of the aspects he loves most about the humanitarian aid organization. But, that is not the only aspect he loves.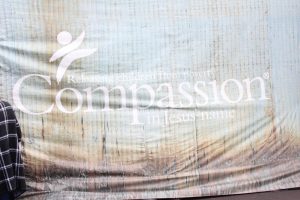 "I love that they are a child rescue organization," Worsley said. "They don't focus on community development, they don't focus on working with the government, they focus solely on rescuing children from poverty because they could change the children's lives, the children will change the county." Scott Sheppard, who is the pastor of Cornerstone Church, said as a Christian, loving and giving back to his neighbors is key to his faith.
"And our neighbors are not always someone that we can see, but often it's someone that's overseas," Sheppard said. "And as we love them, we give a tangible gift that brings hope to a hopeless situation." During the Sunday morning service Cornerstone Church introduced a man by the name of Jey Mbiro.
Mbiro, who grew up in the slums of Kenya, was selected to be a Compassion kid when he was a child. Mbiro told the congregation Sunday morning about how he went from prison at nine-years-old to living in America with a wife and a firstborn on the way.
"I never thought it'd be me," Mbiro said. "Nobody expected anything good to come from me or anybody else born in Mathari."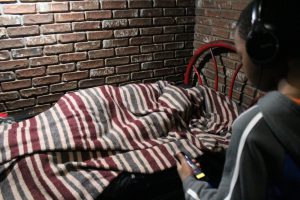 Every Saturday, Compassion calls the names of the children who have received donors, and Mbiro said he remembers the day his was finally called, almost a year after becoming a Compassion kid.
"Having someone sponsoring you, that's like you're telling me, 'Welcome to a family," he said. If you would like more details on how to sponsor a child, visit: https://www.compassion.com/
Follow @GradyNewsource on Facebook and Twitter for breaking news and top stories.
By: Chi Warui and Sabrina Burse