One Georgia House Bill is looking to raise one billion dollars to improve transportation in Georgia. The money raised would go towards repairing roads and bridges. A version of the bill was originally passed in the House would add a 29 cent gas tax to every gallon you purchase at the tank. The Senate drafted a more conservative version of the bill which only features a 24 cent increase. The bill is now back in the House and will be voted on again soon.
In the end, the higher the tax, the more one gallon will cost you at the pump. Reporter Mallory Blount went to the Capitol today to find out more about the status of the bill.
9:00 AM: Reporter Mallory and Photographer Jacob arrived at the Capitol. The House Representatives were in session.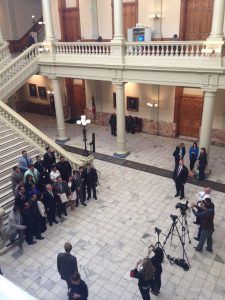 10:32 AM: The House floor was released, and they spoke with Representative Lee Hawkins. He says he thinks this is something Georgia desperately needs.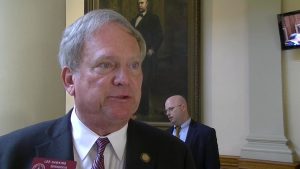 10:46 AM: Representative Timothy Bar says he personally thinks a 24 cent gas tax is too much money.