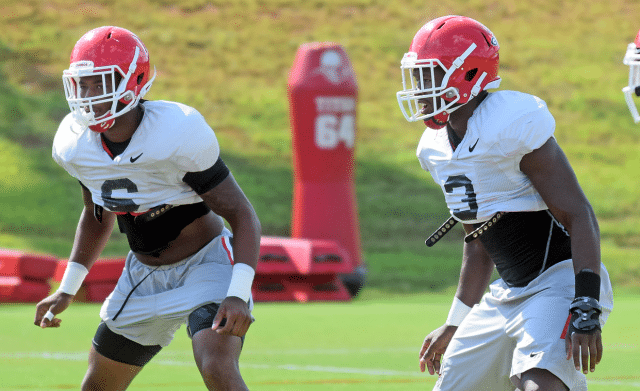 The Bulldogs will have their two leading tacklers for this weekend's game against No. 14 Florida. The University of Georgia Athletic Association released the following statement today:
"After receiving an incident report last week, we determined that neither Roquan Smith nor Natrez Patrick had violated any Athletic Association rules that would require suspension," UGA Athletic Director Greg McGarity said. "This included drug testing, which was negative for both student-athletes."
According to the incident report, on October 15th, police were called to McWhorter Hall by the residential assistant when she smelled marijuana on the fourth floor. Police proceeded to search the room of Smith and Patrick, but found "no marijuana of any testable quantity," according to the police report. Neither student-athlete were charged.
Both Patrick and Smith also made statements in the release. Patrick was suspended for one game last season for marijuana use.
"Since November 2015, I have dedicated myself to moving forward," Patrick said. "I'm blessed to have done that despite hurdles I've had to clear. This incident was simply another hurdle and I was confident I would successfully clear it. I'll continue to move forward and I'm anxious to play on Saturday."
Patrick leads the team with 42 tackles and 4.5 tackles for loss. Smith has 39 tackles and 2.5 tackles for loss.
"As a student at the University of Georgia and a member of the football team, I take this opportunity very seriously," Smith said. "I have followed the rules of the Athletic Association and I am happy this situation has been rightfully resolved. I look forward to representing my school and my team on Saturday in Jacksonville."
Head Coach Kirby Smart also weighed in on the matter at his weekly press conference.
"We brought the matter to a conclusion today," Smart said. "I'm happy for these two young men. They get to move on to football and not have to deal with the distraction. I will say, on the field, these two young men have been exemplary leaders, especially for sophomores."
The game will take place in Jacksonville for the annual neutral-site game. Kick-off is at 3:30 ET from EverBank Field.
By Jamie Han (@JamieHanGNS)
For more updates on sports, follow Grady Newsource on Facebook, Twitter, and Instagram.