As students of Our Resilient Community prepare to put on their annual play, the sparse crowd of parents and friends talk among themselves. They celebrate the students' creativity within the queer-centered agile learning center's tiny classroom. The outside world doesn't always celebrate it and especially not them.
Why It's Newsworthy: Discriminatory legislation in Georgia and several other states is targeting LGBTQ+ people and correlates with an increase in threats and hate crimes
Not many people know where the school is located. According to one of the teachers, Thea Canby, that's intentional.
"Something that we talk a lot about with marketing [the school], we want people to know that we exist and we want people to send their kids here. But we also don't want people to know we exist if they're gonna come and be mean," said Canby.
The selective marketing of the school might seem excessive, but it's for the safety of the students. LGBTQ+ people are suffering nationwide from violent attacks by hate groups and legislation aimed at reducing their visibility in public life.
The Backdrop of Issues in the U.S.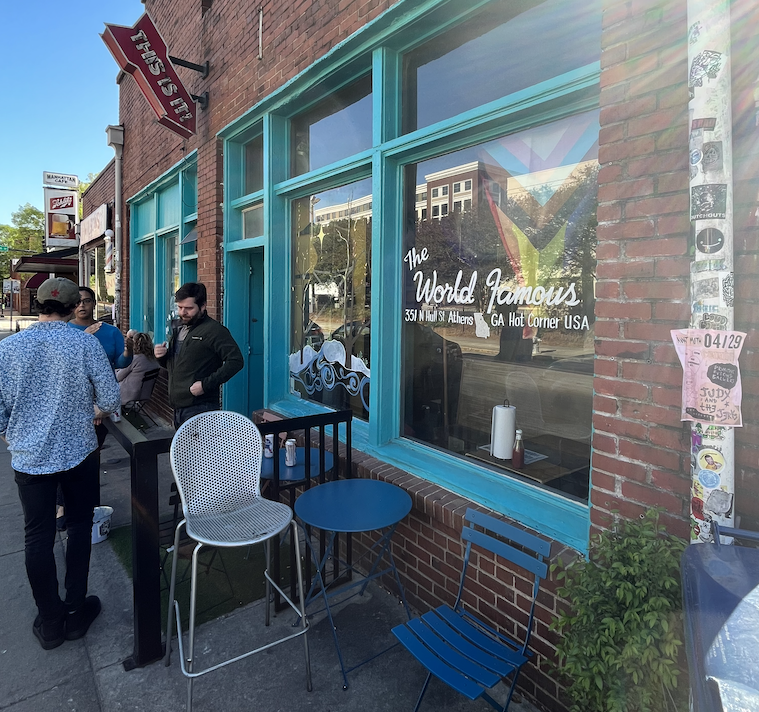 The LGBTQ+ community has faced persecution throughout history. But it appeared that activists had made progress over the past few decades. Supreme Court decisions, such as Obergefell v. Hodges (2015) and United States v. Windsor (2012), protected the right to marriage for LGBTQ+ citizens. On a smaller scale, many businesses display pride flags in a show of solidarity with the LGBTQ+ community.
However, that progress has not meant acceptance of LGBTQ+ people in statehouses across the country. Lawmakers are attempting to reverse recent gains by creating new bills under the guise of protecting children.
At Our Resilient Community, "We have families who are choosing to send their children to a queer-centered school, and they are amazing and show up in a lot of ways," said Canby. All the parents work with Canby to make their child's education plan.
Some conservatives say that children shouldn't be able to make decisions about their sexuality or gender until they reach adulthood, even with parental consent. These politicians don't believe that these life-altering decisions should be made so early in life because they may be confused. However, some lawmakers are thinly veiling this attack against transgender people. Some right-wing politicians have even introduced laws targeting adults.
Increasing hate crimes
Of the five proposed bills in Georgia that target LGBTQ+ people, one was just signed into law, Senate Bill 140. This law prohibits most gender affirming care for minors. Doctors and health care providers who don't comply could lose their licenses and potentially be exposed to criminal or civil liability according to the ACLU. Spencer Frye, Georgia representative for Athens, voted against this law.
"…when these bills get passed, or they get introduced and they're in the news, that there is an uptick of hate crimes against LGBTQ individuals," said Frye.
Unfortunately for the LGBTQ+ community and allies, Frye is right. Hate crimes against LGBTQ+ individuals have increased over the past few years, especially against trans and gender non-conforming people.
Targeting of the Entire Community
Other ways legislators have targeted the community, specifically trans people, would be through banning drag shows. States like Tennessee, Texas, Arizona, Arkansas and more have filed bills against drag performances.
The Tennessee bill, "prohibits 'adult cabaret performances' in public places where minors could watch." Adult cabaret in this context means "adult-oriented performances" that include "male or female impersonators."
People that are transitioning or more androgynous presenting individuals will feel the effects of bills like this. If you do theatre or act or even dress up for Halloween, this bill unfortunately means that you could be breaking the law by existing.
The quote of Martin Niemöller "First They Came…" can be interpreted in this context. LGBTQ+ activists and allies worry that first they will come for drag performers, then trans people, then the remainder of the LGBTQ+ community.
Another way hate groups and legislators alike have tried to diminish the community has been through education and book bans. A report done by PEN America showed that there was a "profound increase in both the number of books banned and the intense focus on books that relate to communities of color and LGBTQ+ subjects."
Fighting Back
However, people aren't taking these attacks lying down. When controversial bills like this are introduced, people protest. Frye believes that the perfect time to protest is when legislation minimizes humans.
"If you're not trying everything in your arsenal to stop or fight, you're leaving it on the table, right? And so I'd say in this case that I would always encourage these sorts of peaceful protests," said Frye.
Cola Fizz is a drag queen who performs regularly with a troupe of drag queens called "The Kourtesans." This is only one of the multiple drag troupes in Athens.
"We've been doing this job for seven or eight years…there's a crowd for it, people who are queer and enjoy queer stuff," said Fizz. The established Athens' drag scene isn't going to disappear anytime soon. Musicians like Lizzo and Kelsea Ballerini have brought out drag queens at their respective shows in a show of support for the community since the Tennessee law passed.
Even Canby's students are fighting back. They have protested against previous bills at the Georgia Capitol. According to her, there is a surprising lack of awareness and ignorance from some people in positions of power.
"Our kids have, their voice is important I think because they have, what's obvious to them, is completely missing in the conversations about their lives and rights," said Canby.
While the students perform their skit, their resilience becomes apparent. These students left traditional schools because of bullying, yet are still full of joy. The youth show that LGBTQ+ people are not going anywhere, despite legislators' efforts.
Blake Campbell is a third-year journalism major, fashion merchandising minor and is pursing a new media certificate.