The Georgia House is considering a new law to regulate the sale of pets in retail stores.
The bill, introduced by Rep. Earl Ehrhart, of District 36, would prohibit local governments from preventing the sale of dogs and cats from any pet store in the state of Georgia. HB 144 would require pet stores to vaccinate their animals against certain diseases, and allow a 14 day return policy for owners. The idea of not prohibiting animals from being sold raises concerns for pet advocates on whether or not this leads to the sale of many more puppy mill pets.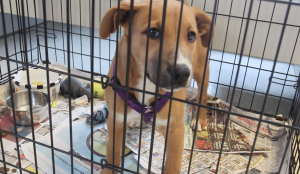 Besides not preventing the sale of animals, another concern for pet advocates is that House Bill 144 would allow the sale of dogs and cats which have not been spayed or neutered. Pet advocates are worried that new owners are choosing not to spay or neuter their pets. This means that when pets give birth, it could ultimately lead to more stray animals. The Athens Humane Society says homeless pets are already a big issue in Athens.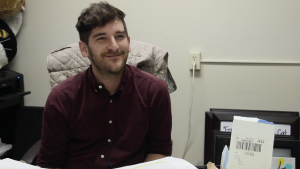 Jed Kaylor, who manages of The Athens Humane Society said, "This will basically give the right of a pet store to sell unaltered dogs and cats at a high price and those people tend to take them home, not get them spayed or neutered and then it will just add to the homeless pet problem that we have."
The main reason that Representative Earl Ehrhart says he sponsored pushed this bill to the floor of the House was to bring consumers more protection. In an email correspondence with another representative he asked for her backing, "I ask for your support to bring some much needed reform to this industry and to bring consumers more protection, while at the same time assuring retailers that Georgia believes in commerce, consumer choice, and the right to sell legal products."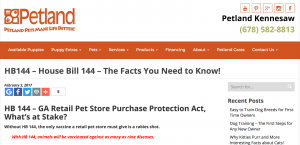 Petland, which supports the bill, listed this notice on its website "With HB 144, animals will be vaccinated against as many as nine diseases."
Kaylor disagrees, "A lot of the vaccines that they say are making the pets safer and healthier are not even recognized by the veterinary association as core vaccines, so they are unneeded and a lot of pets have reactions to those vaccines. So they aren't making anything better for the pets, they're just making money."
The Athens Humane Society employees say they will keep speaking out against this bill.
The bill still has faces will first go up for a full vote in the house. If it's passed, it will before crossing over to the senate.
Follow @GradyNewsource on Facebook and Twitter for breaking news and top stories!
By: Brittany Paris