As a young girl living in a small town outside of Normandy, Germany, Sanni Baumgärtner's love for clothing and apparel developed first with vintage fashion.
She fondly remembers rummaging through her mother's closet and borrowing her grandfather's coat. Baumgärtner also frequented flea markets in search of pieces like '70s-era leather jackets.
Though she no longer lives in Germany, her love for fashion still runs strong through Community, a shop Baumgärtner opened in 2010 to offer an alternative—with often more sustainable options—to conventional, fast-fashion retail.
But why offer an alternative to conventional retail? The fashion industry contributes to a little over 8% of global pollution impacts through both the apparel and footwear industries, and produces almost 4 million metric tons of carbon dioxide equivalent, according to a 2018 Quantis report.
In order to combat the fashion industry's negative effect on the environment, the sustainable fashion movement has gained speed. However, this emphasis on sustainability has led to an increased consumer awareness and has even transformed consumer purchasing patterns.
Why It's Newsworthy: Some experts predict the global fast-fashion industry will face considerable consumer backlash due to its negative environmental impacts. Consumers are driving this change to force brands to acknowledge their ecological footprint and become more transparent with their ethical practices or lack thereof.
Growing Concern
One such concerned consumer is Baumgärtner. Her store, Community, offers sustainable and often locally-made clothes—as well as other handmade items—to combat fast-fashion retailers and open customers' eyes to more ethical options.
"There's a lot of negative impact on the environment—a lot of pollution," she said. "So that's one aspect where we're trying to avoid that [at Community]."
Even college students, such as senior fashion merchandising major Madeleine Howell, aim to make a difference. Howell created Fair Fashion, a University of Georgia organization that raises awareness about the ecological and ethical implications of the fashion industry, in spring 2017. Her goal is to raise awareness for the younger generation of consumers.
Aaron Mcwhirter, a senior marketing student at UGA, is the treasurer of Fair Fashion. His first introduction into sustainable fashion was actually learning how unsustainable fashion as an industry is.
The concept of fast fashion—creating and selling cheap clothes to shoppers to fit trends—is at the very heart of the destructiveness of the fashion industry, Mcwhirter said, and precisely what consumers are starting to resist.
"The very clothes that are causing that damage are the clothes you see on a daily basis," Mcwhirter said.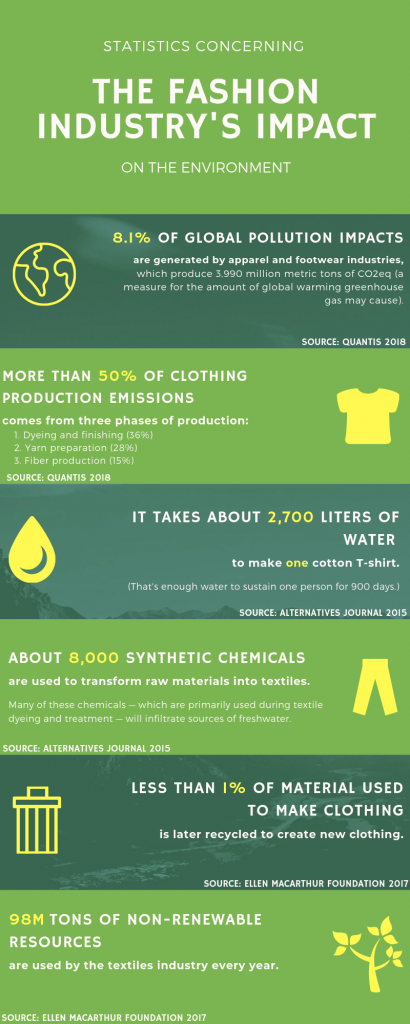 The exponential growth of the Internet in the 2000s only aided fast fashion brands. Companies such as Amazon, Walmart, H&M, Target and Zara use their online platforms to offer consumers cheap clothes—sometimes with same-day shipping—that many only wear once or twice, "The State of Fashion 2019" noted.
Maureen Lehto Brewster, a UGA professor and expert in textiles, merchandising and interiors, said it's important to remember that fast fashion is a system.
"It's also a product—it's something that we consume," Brewster said. "So it's not only the network that produces that, it's the items that we're consuming … that's clothing, that's shoes, that's beauty products."
Changing Consumer Preferences
Consumers are driving change. About a third of consumers over the past few years said they look for principled values and views when buying products like clothing, according to "The State of Fashion 2019" report.
Within the vein of fashion, customers expect brands to be transparent with their sustainability efforts. In the same report, researchers note that sustainability is an "increasingly important priority" for consumers, who are equally increasingly concerned. Because of this, fast fashion could be in danger.
Aside from the industry's impacts on the environment, the cheaply-made clothing also has consumers worried about the ethics of fast fashion, sometimes leading them to shop at other stores that reflect their morals.
On the ground level, stores like Community aim to educate customers about the importance of sustainable fashion. Baumgärtner referred to her store as a "gateway into thinking about sustainability."
"Once [customers] learn more about the concept and what we do and why we're doing it, then I think they're also becoming more conscious about … what kind of clothing they're buying, even aside from from what they buy here," she said.
Baumgärtner said one of the problems with the industry is the ethical treatment of workers, or lack thereof. Ethical treatment is a big part of sustainable fashion, she said. This includes brands making sure employees aren't being exploited, paying workers a living wage, treating employees fairly and providing a safe and comfortable work environment, she said.
Every clothing item shoppers encounter which is "reasonably cheap" falls under the heading of fast fashion Brewster said, though she mentioned plenty high-fashion designers can have production issues too.
"At the end of the day, what most of these brands are trying to do is to maximize their profit to maximize production, and in order to do that, costs are cut [and] corners are trimmed," Brewster said. "Usually what that means is the workers live at the bottom and the environment loses as well."
Future of Fashion
The fashion industry as a whole appears to be slowing down on its efforts to be more sustainable, according to Forbes and "Pulse of the Fashion Industry," a 2019 report from the Global Fashion Agenda and Sustainable Apparel Coalition.
However, there's hope in consumers. Individuals are taking the lead when it comes to sustainable fashion, according to Forbes. In terms of consumers' views on brand sustainability, 75% of respondents indicated sustainability as "extremely important" or "very important" to them, according to "Pulse of the Fashion Industry."
Through Mcwhirter's eyes, sustainability has been more in the spotlight lately, and a priority in consumer preferences in fashion recently, which he cites as a "good thing."
"It's good to see the consumers aren't just numb on the issue," Mcwhirter said. "So I definitely think that companies will adapt, to try to be better about that and become a little bit more responsible to a degree. That's my hope, at least."
Brand transparency—including issues concerning fair labor, sustainable sourcing and the environment—has become increasingly important to consumers' purchasing decisions, according to "The State of Fashion 2019."
Brewster said it helps to know the brands you buy from: how the companies source things, how they manage the factories they're producing from and whether or not they know where the raw materials are coming from.
Fashion brands are taking note, too. However, it can be hard for consumers to learn that information, as the lack of transparency within the fashion industry has been a "huge problem," Brewster said. But research suggests brands are on an upward trend toward transparency, to combat the potential backlash from sustainably-minded consumers, according to McKinsey's "The State of Fashion 2019" report.
Even though consumers are starting to take notice of the fast fashion industry's negative effects, one of the primary drawbacks in following the sustainable fashion movement is the cost. Although 66% of consumers voiced that they would pay more for sustainable goods, according to "The State of Fashion 2019" report, that's not always the case, according to "Sustainability in Fashion," a 2019 consumer survey report from Nosto.
Baumgärtner said more education and information for the customer could help solve that problem.
"It's not like a luxury brand, where they just mark it up because they can, but that's what clothing costs when you produce it that way," she said.
Perhaps if customers understood that, they might understand why it's worth investing in higher-end pieces, Baumgärtner said. She said that's the biggest challenge right now for sustainable fashion. Many people want to support sustainable fashion after learning about the negative sides of the fashion industry, but the price just seems too high.
"It's hard for them to make that jump from wanting to support it in spending $300 on a dress," Baumgärtner said. "That's still a disconnect because we're so trained to think, 'Oh, clothing doesn't cost anything.' You can go to Target and buy a dress for $20."
In the future, Mcwhirter said he thinks more issues involving sustainable fashion will crop up, but in general, believes things will get better.
"I think they have been getting better, but there's always going to be more challenges that we're going to have to deal with," he said.
Brewster confirms that while "Gen Z consumers, in particular, are more conscious of the environment … there's a disconnect, because again, I think fashion is one of those things that's so pervasive in our lives, it's hard to get away from."
For those who want to be more sustainable with their fashion choices, Mcwhirter suggests starting with a mentality change.
"You need to be—at the very least—a more conscious consumer," Mcwhirter said.
Photo essay by Talley Davidson, a fourth-year majoring in journalism in the Grady College of Journalism and Mass Communication and minoring in Spanish in the Franklin College of Arts and Sciences. Long form and infographic by Madeline Laguaite, a fourth-year majoring in journalism and minoring in history. She is also dual-enrolled in graduate school at UGA, earning a master's degree in health and medical journalism. Video by Hayley Barron, a fourth-year majoring in journalism and theater and minoring in film studies. Interview and research contributions by Brooke Stocco, a fourth-year majoring in journalism and minoring in Portuguese and environmental economics and management.