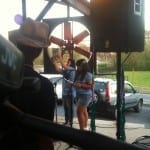 ATHENS — Bands played, children lined up to get their faces painted, and everyone grabbed some snacks. It had all the makings of a party, but the students from Clarke Central High School had much bigger plans.
For more than six months, these students had been planning an event to raise awareness about the University System of Georgia Board of Regent's Policy 4.1.6 that prevents undocumented and under-documented students from attending the top five state universities in Georgia.
These schools include the University of Georgia, Georgia Tech, Georgia State, Georgia College and State University, and Georgia Regents University.
The students are hoping that when more people learn about this policy the Georgia Board of Regents will feel pressured to change it.
Edwin Aramburo was an undocumented person living in the United States until he achieved legal status late last year. He says that the stress Policy 4.1.6 put on him changed his high school experience.
The conservative think tank Center for Immigration Studies still supports the policy. They said the policy should stay in place so Georgia tax payers can take advantage of the state universities.