On a cool Thursday afternoon in late October, 17-year-old Braden DeLamater lined up among 41 other high school cross country runners ready to compete in the 8-AAAAA Region Championship in Helen, Ga.
It was another opportunity for Braden to meet his goal of running a 5K race in under 17 minutes. His times had been steadily progressing all season. 18 minutes, 29 seconds on September 15. 18:03 on September 22. 17:30 on October 4.
At the sound of the gun Braden took off in his white, red, and gold Clarke Central Gladiators uniform through the rolling hills of Unicoi State Park. Clocking 16 minutes and 59.90 seconds later, Braden had finally met his goal.
"Where it just seems like one second to most people, 17:00 and 16:59 were two very different times for me," said Braden. "I was first told that I got 17:00, and I was really disappointed that I missed it by one second. But when my coach came over and said I got 16:59, I was so relieved and excited."
A Love of Running From the State
Growing up, Braden felt it was only natural that he was destined to become a runner. After all, he is the fourth member of an extremely active family. His mom, dad, and sister are all runners and also enjoy playing tennis.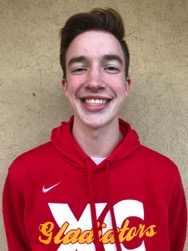 Their love of running all started with Braden's mother, Cory DeLamater. Cory was also a Clarke Central Gladiator, where she ran cross country and played tennis. After meeting Braden's father, Dan, she quickly got him interested in running as well. Dan even qualified for and ran the Boston Marathon in 2014.
Braden's sister, Amelia DeLamater, was also a member of the CCHS cross country and tennis teams. He grew up attending her cross country meets, and if he wasn't watching one in person, Braden would watch races online.
Transitions and Relationships
Now, Braden is continuing the family legacy. Currently a junior at CCHS, he spends each fall as a member of the cross country team and plays tennis in the spring. But Braden took up running long before he entered high school.
He began running in the fifth grade at Westminster Christian Academy, a private Christian school in Watkinsville, Ga. During his time there, Westminster's cross country coach, Amanda Tingle, further motivated Braden to become a runner. Coach Tingle was the first coach who was instrumental setting high standards for Braden and encouraging his future in the sport.
Once Braden began running as a member of a team, he realized it was the fellowship aspect of the sport that he enjoys most. While many people see running as an individual activity, Braden sees it as the opposite.
"One of the best things ever is just doing a long run with the team, with my guys, because when we're doing those we can talk," said Braden. "It's just the comradery of having a good team and running together."
As a top cross country runner at Clarke Central, Braden does his best to promote a team atmosphere. He welcomes new runners and encourages his teammates throughout each race regardless of the outcome of his individual performance. "He was always cheering for everyone down the final stretch of the race, and always made everyone feel like they belonged," said teammate Luke Nesbit.
Just two years ago Braden was a new runner on the team himself. As freshman at Clarke Central, he was worried about being a new kid at a new school.
It was then-senior cross country runner, William White, who befriended and encouraged Braden as a newcomer. "He was like the best runner on the team and he really took me under his wing as a training partner," said Braden. "It was really cool for me to have that." White's actions stuck with Braden and have played a role in his emergence as a leader for his current team.
Listen to Braden's thoughts on his transition from Westminster to Clarke Central in his own words.
The same mentality has been at the core of CCHS cross country under current head coach Alex Holmes. Coach Holmes, another former Gladiator, says, "I think a team's rise and or fall based on how conducive the team members are and with their ability to support each other, regardless of their status on the team. I expect the top runner to support the back runner and vice versa."
In an effort to support his runners, Holmes uses motivational team slogans each season. In the 2017 season, the motto was "It's All About Buying In." This season's was "Raising the Bar." While these mantras seem simple, they have served as effective reminders for the team of their purpose as competitors and teammates.
Braden wrapped up the 2018 season by running at the Foot Locker South Regional on November 24, in Charlotte, N.C. With weather conditions consisting of frigid temperatures and heavy rain, he finished the 5k 279th with a time of 18:41.
"The course was basically a mud pit the whole time, so no one ended up running their best times," said Braden. "But it was a fun experience in a way to have to deal with the conditions and push through."
Looking to the Future
With the 2018 season now behind him, Braden has just one season remaining in his high school cross country career. By this time next year Braden will be just months away from graduation. As college quickly approaches, his future as a competitive runner is currently uncertain.
But there are two things Braden is certain of: his passion for running and competition. Whether he wants to continue running competitively or enjoy the sport leisurely will ultimately determine if he decides to continue running at the college level.
Another thing Braden can always be certain of is the support of his family. "He's working hard in the classroom and he's working hard both on the running courses and on the tennis courts," said Dan DeLamater. "So we're just excited for what is in store for him and know that God's plan, our plan, and his plan will come to fruition."
Katie Morrison is a senior in the Grady College of Journalism and Mass Communication.