This weekend downtown Athens will be filled with food, art, costumes and displays from all around the world. The International Street Festival will showcase diverse culture from 20 ethnic organizations. The annual festival was created to raise cultural awareness in Athens.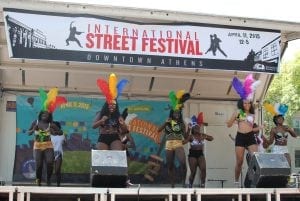 The Department of International Student Life at the University of Georgia will host the event.
"I think sometimes we don't necessarily look at the international persepectives that we have here on campus. Our main goal is to really provide the chance for anyone in the Athens community, and we include the University within that definition, to be able to experience the international diversity we have on campus and within the community," said Ben Cecil, Senior Coordinator of UGA's International Student Life group.
The event brings 3,000 to 5,000 people every year. This year's festival will have 18 different groups performing throughout the day, each from a different ethnic background.
The Annual International Street Festival is this Saturday from 12 to 5 pm on College Avenue in downtown Athens.