UPDATE: UGA Relay for Life won the competition! Second place went to the Guide Dog Foundation and third place was UGA Relay For Life.
ATHENS, Ga. — Eight different charities are going to get a check to help their philanthropies by the end of this week. Chances are that if you went to the Chick-Fil-A on Barnett Schoals Road sometime this week, you saw these eight charities competing in the events going on for this years Chick-Fil-Anthropy.
The charities involved include: Camp Kesem UGA, UGA Relay for Life, UGA Miracle, Guide Dog Foundation, Shop with a Bulldawg, MedLife at UGA, Whatever It Takes UGA and Food2Kids.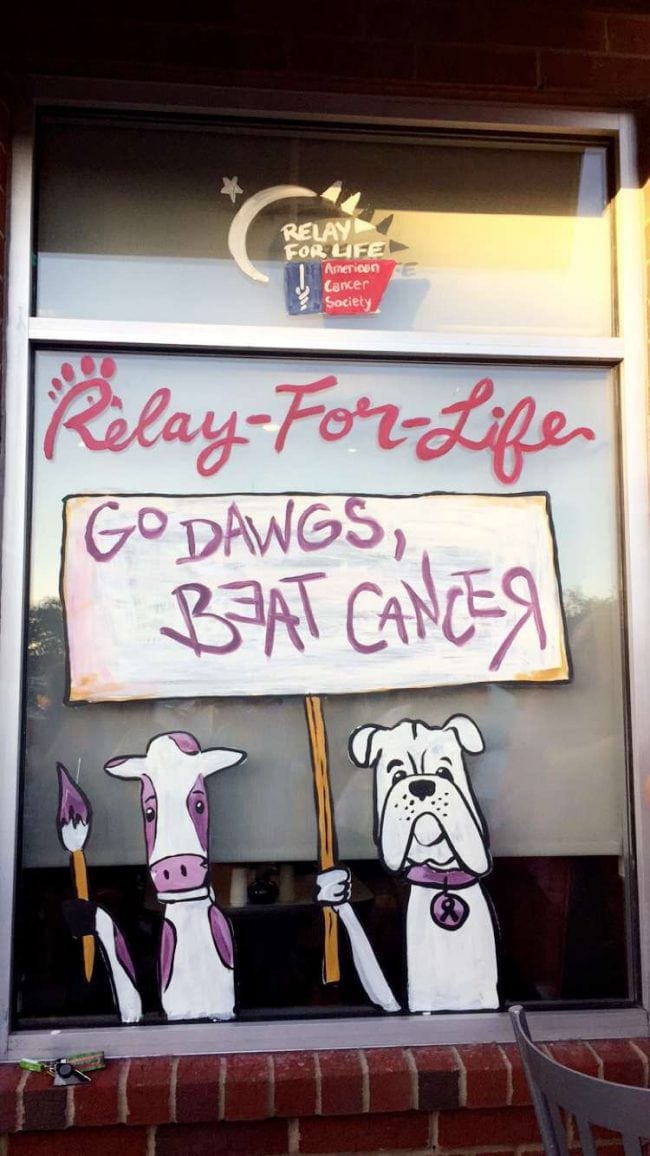 Throughout the week, the participating charities have been competing in multiple events: window painting and jeopardy on Monday, a food relay on Tuesday, an obstacle course on Wednesday and a corn hole competition on Thursday evening. All in hopes of winning the $1,000 grand prize.
"All of the groups participating will receive a check for their philanthropy. The grand prize winner will receive $1,000 for their organization, and 2nd-8th place get smaller amounts for their check," says Haley Simmons, Marketing Director Chick-Fil-A Barnett Schoals.
Last year Camp Kesem UGA won the $1,000 grand prize. Camp Kesem UGA supports children in the Greater Athens/ Atlanta community by providing two-week long sessions of summer camp and year-long support to families affected by cancer. The money won went towards helping a child in need go to camp, and also funded year-round relationships including reunions, grief support and camper visits.
One of the other charities, UGA Relay for Life, is competing in this year's competition for the third year in a row. UGA Relay for Life works hand in hand with the American Cancer Society in an effort towards funding research for a cure and the many patient programs that ACS offers. The money from this competition will go towards their year long total that will be revealed in April 2017.
"It's a great opportunity for everyone from Relay to come together. It is a lot of fun and we get to raise money and awareness for our cause," says Emily Maggs, UGA Relay for Life Executive Director.
"Our goal is to create a fun and engaging environment where these philanthropies can share information about their causes while bonding as a group," says Simmons.
The competition brings in a lot of business for the Chick-Fil-A, and even though they could not give us an exact amount of money that is brought in this week compared to other weeks, Simmons was able to say that they "do see an increase in business because these students know the organization with the most participation wins the most funds toward their philanthropy."
This year's Chick-Fil-Anthropy week competition ends tonight after a corn hole tournament at six.
Updates to come after the total points have been calculated and the winner has been announced Friday morning on Chick-fil-A's instagram.
By: Kendall Meissner