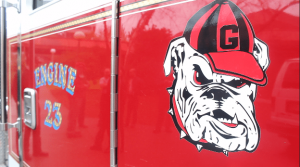 ATHENS — The Athens-Clarke County Fire Department parked its truck in front of the Miller Learning Center today. The firemen got out and immediately started giving tours to students in an effort to show how to stop a fire.
Wes Thompson is the lieutenant for the station. He said it's especially important for college kids to be safe because dorms, bars and even frat houses can be death traps in a fire.
Many of those buildings are confusing in optimal conditions.
Thompson has a strange tip for college kids to survive fires in their dorm.
"Walk in with your eyes closed to see just how disorienting it is because in fire conditions you're not gonna have the visibility," he said.
Thompson said despite the danger, everyday is fun because he gets to hang out with friends, save people and animals.
"Oh, you know, it feels good to help somebody out like that," he said.
Thompson said they don't just stop fires. They are also prepared to save people if they get trapped in an elevator or drink too much alcohol during a football game.