A parade route change may cause your usual maneuver around downtown Athens on Thursday to stop. The Downtown Parade of Lights is set to start at 7 p.m. on Thursday, December 1, but roads will be closing sooner than that.
According to the Athens Clarke County website, the parade includes 77 different floats and cars, ending the parade with Santa. The parade is expected to be under one hour, and the new route could help make that possible.
The slight change has the parade starting in a different place. In 2015, the parade started at the corner of Dougherty and Pulaski Streets. This year the parade will line up on Hancock Avenue and the parade will begin at the corner of Hancock Avenue and Pulaski street.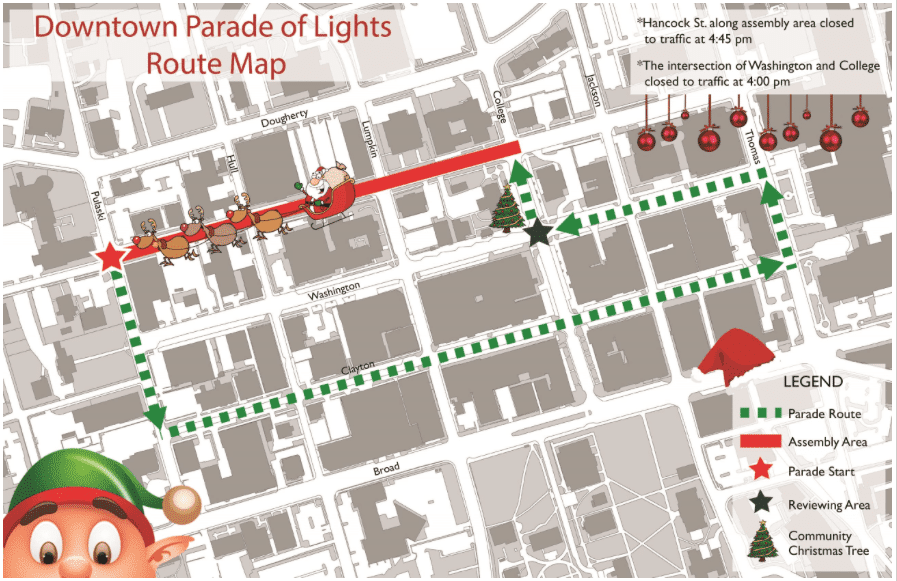 Lineup will cause road closures to begin a 4 p.m. at the intersection of Washington and College. At 4:45 p.m. Hancock Street will be closed.
The parade will conclude with the lighting ceremony for the Community Christmas Tree.
---
By Jessi Young
Follow Grady Newsource on Twitter, Instagram, and Facebook