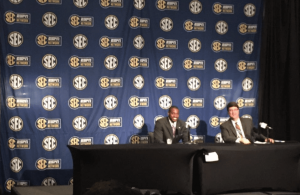 It's official. Georgia is the favorite to win the SEC East title.
Media members from SEC Media Days selected the Bulldogs as the clear frontrunner to win the Eastern division. With 166 votes, Georgia feels the pressure, says senior outside linebacker Jordan Jenkins.
"We've got to approach it as professionals and accomplish what other people are saying," said Jenkins.
"Not just for them but for ourselves, mentally, and just to finally get over that hump and win big, like we have in the past."
The SEC media is notoriously incorrect on their selections. In 2013, they selected Missouri to finish sixth in the East. Missouri won the Eastern title that year. Just the next year, the media picked South Carolina to win. The Gamecocks went 6-6 and barely made it to a bowl game, finishing fifth in the division.
But this year, the media is taking it to the next level. They picked Alabama to win the SEC West, but Auburn (another SEC West team), to win the conference championship.
It appears that the media will go yet another year with incorrect selections.