Just like every afternoon, Jackie Gonzalez stepped outside to check on the recycling bins located at the front of the Barnett Shoals Publix, where she works. Just like every other time, the bins were full.
"A lot of customers come by, not usually for shopping but just to leave their plastic bags here for us to recycle," Gonzalez said.
Everyone knows the feeling of having plastic bags pile up under the sink. The U.S. alone uses more than 100 billion plastic bags each year, according to the Environmental Protection Agency. Their popularity has grown at an expeditious rate since the 1980s because they're both convenient and easy to produce. By 1982, grocery stores like Kroger and Safeway made the switch to plastic bags and by the end of the decade, paper bags were all but replaced.
The Food Marketing Institute found on average, shoppers go to the grocery store 1.5 times per week. If the shopper uses only five bags each time, that's 390 bags per year. If all 10.52 million people in Georgia shop that way, that's 4.1 billion plastic bags used per year.
When those plastic bags aren't properly disposed of, they can impede waterways and harm animals. When plastic bags do end up in the landfill, they can take up to 1,000 years to degrade.
But plastic bags can be recycled, just not at most curbside programs.
The recycling center in Athens-Clarke County, like most centers, does not accept plastic bags because it doesn't have the machinery to deal with them.
Joe Dunlop, the waste reduction administrator at the ACC Waste Reduction Center, said recycling centers are full of conveyor belts, rotating equipment and people in hard hats and thick gloves sorting through materials. When centers try to run plastic bags through the rotating equipment, they get wrapped up and cause a safety concern.
Publix is combatting this and providing a connection between consumers and companies equipped to recycle them. Part of its mission statement is to be intolerant of waste, and to adhere to this mission, Publix leaves multiple recycle bins outside its doors: one for plastic bags, one for paper bags and one for foam trays and egg cartons. Once each bin is full, Gonzalez or another Publix worker moves the recyclables to the back of the store where they wait to be taken to a return center.
The return center stores the plastic bags until a recycler picks up the material to be processed and sold. Companies that are equipped to recycle the bags purchase the bags and turn them into low-maintenance fencing, composite deck boards, building and construction products or new plastic bags.
Gonzalez even uses the recycling bins herself.
"Generally … it's more useful that way," Gonzalez said. "I'm just trying to get rid of plastic that usually gets thrown away. I also like to reuse them."
Publix is joined by other national retailers like Kroger, Walmart, Safeway and Target that also recycle plastic bags.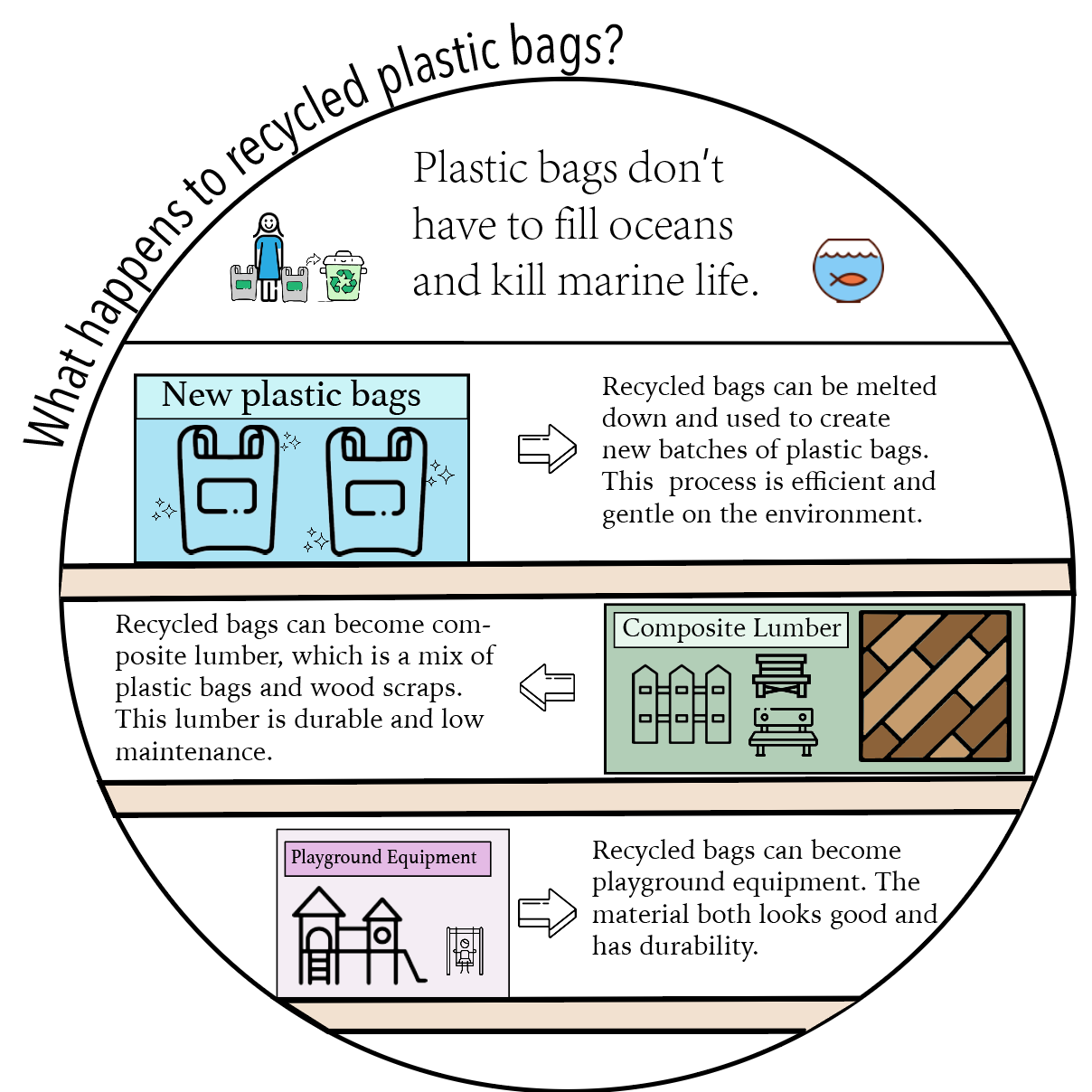 Organizations outside of grocery stores offer solutions as well. The Center for Hard to Recycle Material, or CHaRM, is one of them. CHaRM is a "permanent drop off facility that aims to improve our environmental health by encouraging reuse and diverting thousands of pounds of household hazardous waste, bulky trash and other hard to recycle items." CHaRM has a location in Athens as well as in Atlanta.
CHaRM can accept items that typical curbside recycling services can't because of the specialized equipment they have on site. In addition, when people drop off their materials, everything is separated. A typical recycling plant collects all the materials in one bin and then has workers separate the items as they come down a conveyor belt. At CHaRM, Dunlop said workers unload and separate materials by hand to ensure that each item is safely placed where it needs to be without causing a safety hazard.
In addition to residents who drop off their recyclables, local Athens businesses, including beer brewers like Terrapin and Creature Comforts, and branches of the University of Georgia, including the Health Sciences campus and university labs, bring their plastic bags to CHaRM.
Once at the facility, the CHaRM in Athens sells their plastic bags to Trex, a company based in Virginia that turns the bags into park benches and decking. According to their website, the average 500-square-foot composite Trex deck contains 140,000 recycled plastic bags, making them one of the largest plastic bag recyclers in the U.S.
CHaRM is limited, though. All the materials have to be dropped off at the facility on College Avenue. There is no option of curbside pickup.
"I would love to have the funding to have a staff person and a truck to pick stuff up," Dunlop said.
But what if we ditch the plastic bag completely?
Paper bags are an option, but their downfall comes with the carbon emissions from their creation. According to a study by Britain's Environment Agency, a paper bag would have to be used at least three times before the environmental impact of its creation equaled that of a plastic bag used only once.
The environmental impact of producing cotton bags is even worse than paper and plastic. A reusable cotton bag must be used 131 times for it to have a lesser environmental impact than a plastic bag used once, according to the same study.
But these bags are meant to be used that amount of times—or more. Cotton bags are also sturdier, hold more contents and most people already have one in their home. Ultimately, "it's nice to not even generate waste," Dunlop said.
Emily Lanoue is a senior at the University of Georgia pursuing a bachelor's degree in journalism with a minor in communication studies and a certificate in new media.