The State Botanical Garden of Georgia will host author and horticulturist Abra Lee for its Johnstone Lecture at 6:30 p.m. Tuesday.
Lee's lecture, titled "The Invincible Garden Ladies," will highlight the stories of Black female horticulturists in U.S. history.
The Johnstone Lecture series, which started in 1994, honors the garden's first director, Francis E. Johnstone Jr. It serves as an opportunity for the community to learn about an environmental subject. The lecture by Lee, founder of Conquer The Soil in Atlanta, is part of the fall University of Georgia's Signature Lecture Series.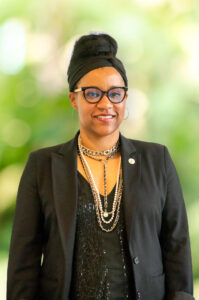 Lee is the author of the upcoming book, "Conquer The Soil: Black America and the Untold Stories of Our Country's Gardeners, Farmers, and Growers." She is director of horticulture for the Historic Oakland Foundation in Atlanta and an alumna of the Longwood Gardens Society of Fellows, a network of public horticulture professionals.
"Each time she speaks it's different," said Jenny Cruse-Sanders, director of the State Botanical Garden of Georgia. "Her research is ongoing, and I think she brings something new to the table."
The lecture will feature stories about several historic Black female horticulturists and business owners. Two of the Black entrepreneurs who will be spotlighted for their role in the history of diversity in horticulture are Blanche King Hurston — the sister-in-law of author Zora Neale Hurston — who owned a floral business in Florida during the 1920s, and Mahalia Jackson, a famous gospel singer who was also a florist.
"A lot of horticulture that we see, in the U.S. especially, is very western-oriented," said Grayson Cho, vice president of the Horticulture Club at UGA. "A lot of the things you see follow a cut-and-paste form of what gets planted, and I think having people of color brings in a lot more culture and a lot more just diversity in plants in the industry, as well as what you get to see out in landscaping."
The lecture will be in the great room of the Callaway Visitor Center and Conservatory. The event is free but it requires registration; enrollment is now closed.
Shelby Watson is a second-year journalism major at the University of Georgia.