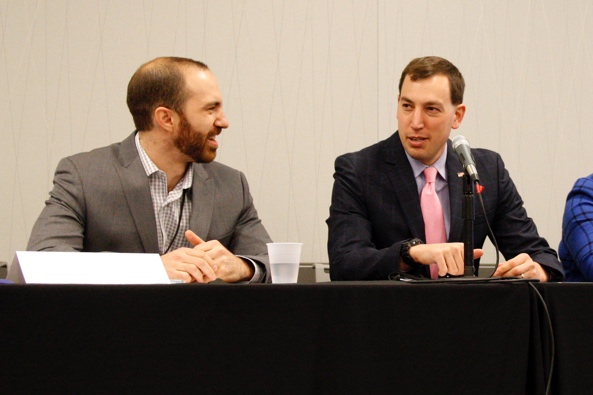 How can today's medical schools truly prepare students to care for patients tomorrow?
That's the question Dr. Jesse Ehrenfeld said curriculum designers at America's medical schools need to ask more often.
The structure of medical education has changed little over the last hundred years, said Ehrenfeld, a physician and professor at Vanderbilt University. Students study the science of medicine for two years followed by two years of clinical experience. However, in an era when medical care is delivered largely by a team of providers, and when payment mechanisms and incentives are in constant flux, Ehrenfeld believes the old education model is no longer up to snuff.
"We've been so strong in the science in medical schools," said Ehrenfeld. "We've been so strong in teaching students how to pick the right drug, how to interpret an electrocardiogram, how to read an X-ray. What we haven't taught them is the context in which to do those things, and to do those things effectively."
Yet this is exactly what physicians most need to know, said Ehrenfeld. He addressed a national conference of health journalists as a member of the American Medical Association's Board of Trustees on April 9, 2016.
For its first 150 years, the Chicago-based AMA was seen largely as a conservative organization devoted to maintaining the status quo for physicians. Over the past two decades, however, it has rebranded itself as a more progressive, advocacy-minded group. One of its recent initiatives is to modernize how physicians are educated, Ehrenfeld said.
In 2013, the AMA granted eleven medical schools nationwide $1 million each to promote innovations in medical education curricula through AMA's Accelerating Change in Medical Education consortium. Two years later, the consortium granted $75,000 each to 21 additional schools, including Emory University School of Medicine and Morehouse School of Medicine in Atlanta.
Emory, Morehouse and the 30 other schools in the ACME consortium are obligated to share what they learn with the others in the group. "There's no need to reinvent the wheel," Dr. Janice Herbert-Carter, Chair and Associate Professor of Medical Education at Morehouse School of Medicine, said. "I think that's what this grant is all about: sharing things that have been successful so that everybody can benefit. And ultimately, our patients benefit."
Ehrenfeld said these educational best practices will be shared with non-member schools as well. "Our goal is to leave no one behind—to make sure that every medical student in this country is receiving the best [education] that they possibly can," he said.
Also on the panel during the health journalism conference was Dr. Nathan Moore, a resident physician at Barnes-Jewish Hospital in St. Louis and 2013 graduate of the city's Washington University School of Medicine. Moore wishes his medical-school professors had taught him more about how healthcare actually works in hospitals and clinics.
"[Healthcare] systems factors play a huge role in what kinds of care your patients can get," Moore said, "[such as] whether or not they can afford their medicines and whether or not they can get in to see the specialists that they need. And when they can't, I don't think our medical education really prepares us well to help our patients navigate the system to get the outcomes they deserve."
While still in medical school, Moore and Elisabeth Askin, a classmate at Washington University, took matters into their own hands by researching and writing The Healthcare Handbook: A Clear and Concise Guide to the United States Healthcare System in 2012. The book is a user's manual for navigating America's healthcare system aimed at their peers. Moore and Askin published a second, updated edition in 2014.
The handbook covers material that professors seldom touch on in medical school courses, Moore said, and it emphasizes the importance of integrated care: working in teams with other medical providers. A paperback book can't address everything that Moore said needs to change, however. He would like to see medical schools emphasize healthcare systems factors, provide more of a focus on critical thinking and give students patient contact earlier in medical school.
"I think the key takeaway is that the system is not broken," Moore said, "but it has some problems that directly connect with the problems in our healthcare system."
Moore is excited about the AMA's contributions to innovation in medical education. During the Association of Health Care Journalists' recent national conference in Cleveland, he shared the stage with Ehrenfeld and two other physician panelists reforming medical education. "Everybody on that panel was talking about cool, innovative ways they're trying to fix it," said Moore. "That's good news, I would say."
"Our society is changing. We have new challenges, and we can't just continue to do things the old way," said Herbert-Carter. "We have to be able to communicate with our patients in order to help them bring about changes in their own health."
By Sandra L. McGill