Tornado Watch comes and goes without any severe weather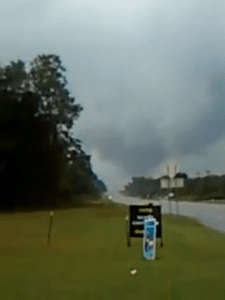 Athens, GA (Grady NewSource) – Georgians who went to sleep Monday night wondering about the chance for severe weather overnight will wake up finding they did not miss much.
Despite a Tornado Watch issued by the National Weather Service's Storm Prediction Center Monday around 6:40 p.m., not a single thunderstorm prompted dangerous enough storms to warrant a Severe Thunderstorm Warning or Tornado Warning. While scattered thunderstorms brought periods of heavy rain to communities across the area, it was upper-atmospheres winds that worried meteorologists. The spiral in the atmosphere was ideal for tornadoes and thus forecasters continued with the watch as a pre-caution until about 1:40 a.m.
Video recorded and uploaded to the National Weather Service by an eyewitness in Whitfield County shows what could have been a funnel cloud around 4:20 p.m. Monday. The funnel cloud, which is the extension and rotating of a cloud from the sky towards the ground, did not reach the surface. There was no initial reports of damage as a result of the storm.
Showers and thundershowers were expected again Tuesday as temperatures climbed into the mid-to-upper 70s.