With more than 30,000 students attending the University of Georgia, there is a growing demand for off-campus living. The supply of housing for students has increased at an exponential rate since 1955, but it may be at the expense of small businesses as well as locals who have lived in historic districts for decades.
Why It's Newsworthy: Seventy-three percent of students seek off-campus housing, according to a comprehensive study commissioned by Athens-Clarke County. To meet this demand, there has been an increasing number of student-aimed complexes over the past few years.
While students attempt to find a place to live, historical districts are trying to preserve their neighborhoods to avoid the risk of gentrification.
This timeline showcases all of the student complexes in Athens-Clarke County. Since 2011, there have been 10 student-only complexes that have arisen in Athens, with at least two appearing every year between 2011-2016. (Photos: Trevon Johnson, tjj68651@uga.edu, Timeline: Rebecca Nauth, rpn40593@uga.edu)
Student Points of View
____
Ansley Chea
Ansley Chea, a student majoring in management and information systems, has been living at the Standard since July of 2018.
Her reason for choosing to live downtown was because of the convenient location, and the amenities that are offered, such as a basketball court, fitness facilities, an arcade and game room, and study lounges with private group study rooms.
According to Chea, the continuing growth of apartment complexes in the downtown area can be seen as an addition the problem of gentrification and studentification.
"Almost all the business in Athens rely on students since it is a city mostly catering towards students," said Chea.
"Students give the downtown area a new sense of community you just can't get anywhere else."
Despite the apprehension to the constant renovations and progression of housing complexes in downtown Athens, Chea sees the student impact as a revitalization on its own.
The unparalleled spirit and devotion of UGA students provides for an infectious sense of belonging and pride to the Athens community.
Although Chea sees the student population downtown as a great continuing addition to Athens, she mentioned there are certainly some drawbacks.
"In the past few years, many small business in Athens have closed down due to inconsistencies in returning customers which has caused hardships on business owners, having a company in Athens could be risky," said Chea.
This map pinpoints all of the student-only complexes located in the Athens-Clarke County area. (Graphic: Rebecca Nauth, rpn40593@uga.edu)
____
Carli Isaacson
Carli Isaacson is a student, majoring in landscape architecture, who currently lives in the Mark.
Not having a car and wanting to be close to campus were Isaacson's determining factors in choosing to live downtown.
Isaacson said she is not aware if there is currently an issue of studentification and/or gentrification in the Athens area, but she understands that because of the price, those apartments attract a certain type of people.
"The buildings downtown are much more expensive than buildings off campus so there are only some people who can afford the higher prices," said Isaacson.
Despite everyone not being able to afford the expensive lifestyle of downtown Athens, Isaacson mentioned the continuing inclusion of students into the area makes Athens more fun and lively and that she feels safe.
The only downside that Isaacson saw to the influx of students into the downtown area is the overall cleanliness to the area.
"Students make downtown kind of a mess and dirty," said Isaacson. "And they do no take care of it or respect it."
____
Andy Randall
Andy Randall, a student majoring in real estate, currently lives at Farmers Exchange and said living downtown has given him many opportunities socially. He commented that he did not think there was a significant issue of studentification or gentrification
"The student housing trends that are taking place in downtown Athens are consistent with other cities with a major University located in close proximity to it," said Randall.
Pursuing a degree in real estate has given him the expertise to understand and analyze the impact of such housing developments in a town like Athens, Ga.
Randall saw the significance and demand for student housing as a positive impact on the Athens-Clarke County community.
"Developments like the Mark and the Standard would never happened without an increase in demand for student housing downtown from students," said Randall. "Not only do these properties give Athens-Clarke county government a significant increase in property tax revenue, additional retail stores have been added to these locations."
When asked if he thinks students harm downtown Athens in any way, he stated that because many of the businesses of downtown are centered for the students rather than local residents, he can see how they may be alienated.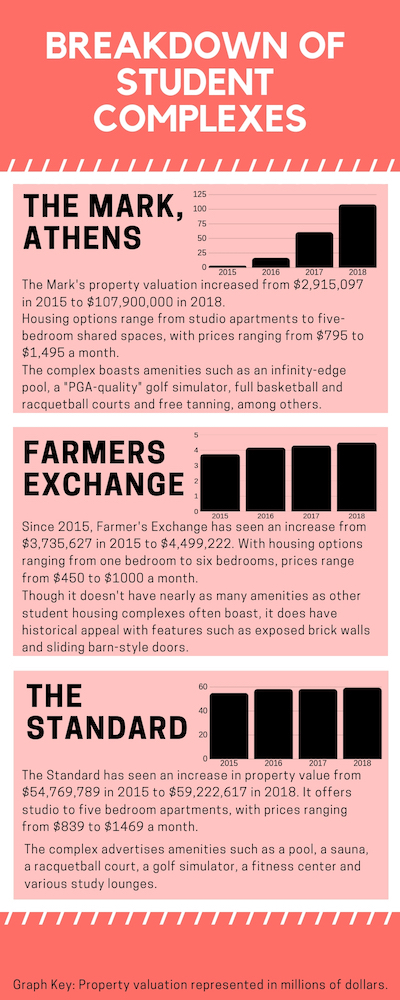 Historical Point of View
Studentification is not limited to apartment complexes in downtown Athens. The communities and neighborhoods surrounding UGA are also severely impacted. In particular, historical neighborhoods housing low-income residents.
These local historic districts are carved out by the Historic Preservation Commission of the Athens-Clarke County Unified Government Planning Department.
The goal is to preserve pieces of local history and to help support those residents who live there.
The development of Athens occurs almost simultaneously with the development of UGA. The video above explains the history of 15 of Athens' local districts and how these neighborhoods came to be. (Video by Danny McArthur)
Ashley Ansley, Trevon Johnson, Emma Korstanje, Danny McArthur and Rebecca Nauth are a seniors majoring in journalism in the Grady College of Journalism and Mass Communication at the University of Georgia.