By Jordynn Abernathy and Zack Sims
Happy Birthday Mickey Mouse! To celebrate, we have a list of 10 fun facts to make you the Mickey Mouse expert.
His name was originally "Mortimer", but Walt Disney's wife refused and suggested "Mickey" a better choice.
His official debut was in 1928 as "Steamboat Willy".
His first words were "hot dogs" playing a hot dog salesman in "The Karnival Kid".
From 1928 to 1946 the voice of Mickey Mouse was done by Walt Disney himself.
He is one of the most well-known characters around the globe, even surpassing Santa Claus.
Children in WWII wore Mickey Mouse gas masks to protect themselves and eliminate the fear of war.
Mickey Mouse was the first animated character to have a star on the Hollywood Walk of Fame.
He has posed in a picture with every U.S. president since Harry Truman, except for Lyndon B. Johnson.
In 2005, he was the first cartoon character to serve as the Grand Marshall of the Rose Parade.
The Academy Award nominated Mickey Mouse 10 times for best animated film.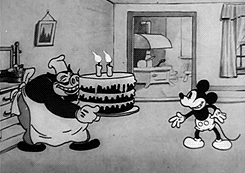 If you want to know more about the history of Mickey Mouse, check out our timeline.