Georgia football's first Southeastern Conference game is this Saturday, and in the case of this game, two bulldogs are better than one.
The No. 11 Georgia Bulldogs are set to host the No. 17 Mississippi State Bulldogs at home at Sanford Stadium. This is not only Georgia's first SEC match up of the 20-17 season but it is also the first time Georgia will face a top-25 team between the hedges.
During his Monday press conference, Georgia head coach Kirby Smart emphasized the versatility of the Mississippi State players and how defensive coordinator Todd Grantham has utilized his starters.
"He's got these guys playing really hard, really physical" Smart said. "They've got some good players, got some big guys up front that are playing hard."
According to Smart, the coaching staff at Mississippi State does a good job of using what they have and using it to their best advantage.
"They just seem like they have a lot of guys they play and they use them well," Smart said. "They use them to their strengths."
One of these specific players that the Mississippi State coaching staff uses to their advantage is junior starting quarterback Nick Fitzgerald.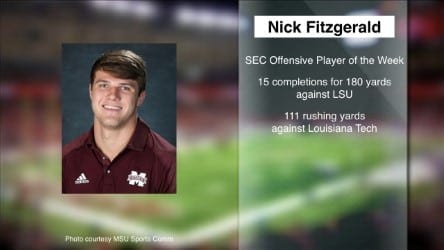 Fitzgerald is the reigning SEC Offensive Player of the Week after tossing four touchdowns in Mississippi State's decisive 37-7 win over LSU last Saturday. And according to Smart, he is someone who has only gotten better the longer he has played for head coach Dan Mullen and quarterback coach Brett Elliott.
"To see him this year compared to all the games we watched last year in the off-season, he is one of the most vastly improved players because he is not one-dimensional anymore," Smart said. "He was really just a runner last year and that's not the case [anymore]."
As Smart said, Fitzgerald is not afraid to step out of the pocket. The quarterback with the 61 percent completion rate can also spread the field with his legs. He showed this in week two when he rushed for over 100 yards against Louisiana Tech. He had 111 rushing yards to be exact.
Fitzgerald has transformed into a triple threat quarterback and could possibly be one of the best quarterbacks that the Georgia defense faces this season.
Kickoff for Georgia and Mississippi State is at 7 p.m. on Saturday night.