Between the 27-foot-long hot dog on wheels and free "Wiener Whistles" handed out, the Oscar Mayer Wienermobile was the talk of Athens.
Hotdoggers Molly "Mayochup Molly" Swindall and Maggie "Mustard Mags" Thomas spent an entire week between Feb. 25 and March 3 recruiting University of Georgia graduating seniors to join the Oscar Mayer team of hotdoggers.
A hotdogger is a brand ambassador for the Oscar Mayer company. They drive the Oscar Mayer Wienermobile to spread the brand and interact with fans. These individuals attend a variety of events from grocery story pop-up events to worldwide ceremonies.
Swindall, a 2016 UGA graduate from the Grady College of Journalism and Mass Communication, knew as soon as she accepted her job as a hotdogger last year that she must return to Athens to try and recruit more UGA graduates.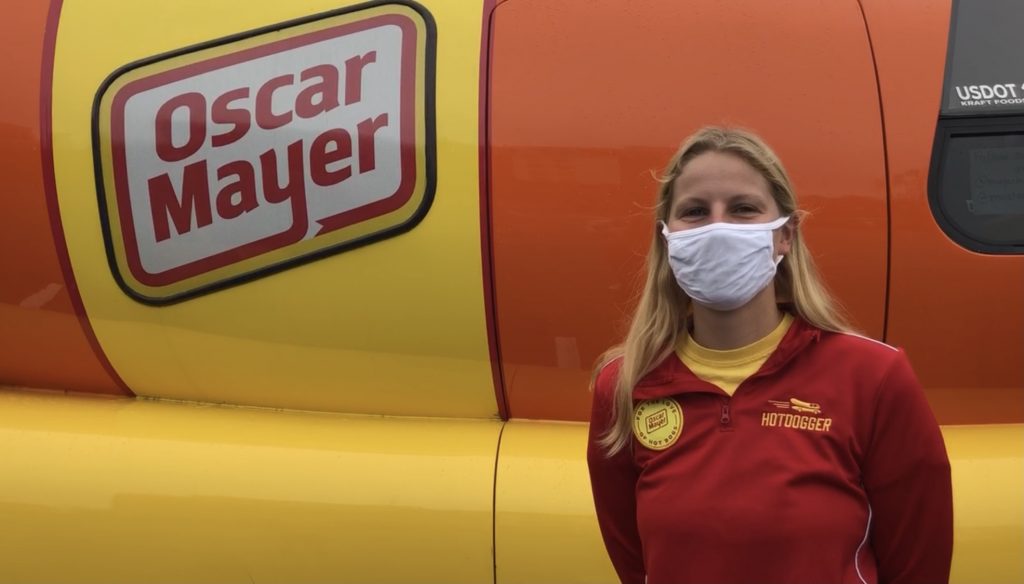 "I wanted to recruit new Dawgs to become Double Dawgs and drive the Oscar Mayer Wienermobile as a hotdogger," Swindall said. "I figured that all the students here would be perfect candidates and see if any of them could cut the mustard."
Why It's Newsworthy: The Oscar Mayer Wienermobile captured the eyes of many Athenians as select UGA students moved onto the next round of interviews with hopes to be a part of the next class of hotdoggers. Some did not move on and have to look to alternative post-graduate opportunities — a path that has become familiar during COVID-19.
Unique Application Process
The interested applicants were required to attend a Zoom video informational meeting on March 2, the night before Swindall, Thomas and the Wienermobile departed. Applicants were notified that they must submit an updated resume along with a cover letter by 11 a.m. the next morning.
Public relations senior Grant Mitchell was caught completely off guard from the quick turnaround.
"I think I was surprised at the amount of turnaround that was required," Mitchell said. "I knew it was an official, very serious role, but I did not expect the level of intensity surrounding the opportunity. It was cool to see; it was an exciting thing that was a big deal, though."
If the applicants were able to submit all of their materials on time, they received news on the next steps of their application by that evening at 5 p.m.
Unfortunately, Mitchell was not one of those chosen to move on in the application process, but he still appreciated the 24-hour stretch.
"It taught me to be adaptable and be ready to walk into any job experience with an open mind, especially with large brands and companies," Mitchell said.
Help from Career Center
Whitney Prescott, the associate director of external engagement and communications at the UGA Career Center, tries to help students like Mitchell who are looking for post-graduate career opportunities.
The UGA Career Center allowed Swindall and Thomas to take over its Instagram story. Prescott believes that these types of engagement and events are beneficial for all students, especially those struggling to find jobs during the COVID-19 pandemic.
"Instead of them [Swindall and Thomas] just looking to reach and engage with Grady graduates, they, along with all of our employers, are trying to reach a broader audience across all majors and placing a lot of our students in great jobs during these times," Prescott said. "After we tracked our analytics report of the takeover, I would say this takeover was probably our most engaging takeover to date."
Athens Part of Storied History
Although the Wienermobile came for the soon-to-be graduates, it attracted so many more.
Since 1936, the "hot dog on wheels" has been traversing the United States from coast to coast. The Wienermobile has remained on the roads all but nine years since its 1936 start. Today, six separate Wienermobile vehicles ride throughout America.
Due to the Wienermobile's storied history and widespread reach in the United States, some have referred to it as an American icon.
From taking pictures with countless pet dogs throughout the country to helping start and raise a fundraiser for a guide dog for a boy in California, Swindall has encountered many memories during her tenure as a hotdogger. Her job on arguably one of the most recognizable American vehicles has brought joy into her life and the lives of others.
"When I saw the job, it's the only job that makes people smile every single day," Swindall said. "I just knew that during COVID, it would just be so important… to bring joy and happiness to their life when they're not really having it."
Where Next?
Before coming to Athens, Mayochup Molly and Mustard Mags took a detour to Tampa, Florida, earlier in February for Super Bowl LV. After departing from Athens, the duo took a trip back to Florida to go to Universal Studios and swim with the dolphins in their free time. Then, they'll set up shop in Orlando.
For the next class of hotdoggers there will be 13 people who will start their training in Wisconsin before hitting the road in June. Each hotdogger will serve a one-year, full calendar term. They are assigned a partner who they will work and live alongside for six months before switching partners for the final six months.
Swindall and Thomas both hope that at least one UGA graduating senior will be in the 2021-22 class of hotdoggers.
For more information on becoming a future hotdogger or learning more about the Oscar Mayer Wienermobile and where it might be heading next, visit the Wienermobile website to stay updated. The team expects to post the 13 new hotdoggers sometime in May.
Zach Miles is a senior majoring in journalism and earning a certificate in sports media in the Grady College of Journalism and Mass Communication at the University of Georgia.