Around her sixth birthday, Jasmyn Reddicks had her life all figured out.
Reddicks grew up in a small rural town where those who attended college experienced an extra dash of social expectations. But instead of becoming a lawyer, doctor or veterinarian, Reddicks opted for an occupation a little bit sweeter. She wanted to own a bakery.
Now in her early 20s, Reddicks makes her mark on food industry with her vegan cupcake pop-up shop, VTasteCakes.
Why It's Newsworthy: Women own

40% of businesses

in the U.S., according to the 2018 Women-Owned Business Report commissioned by American Express. Athens, Georgia hosts a variety of local female entrepreneurs.
Food Mixed with Business
Although owning a bakery was Reddick's endgame, she initially pursued a biology degree from Albany State University with the hopes of becoming an orthodontist first.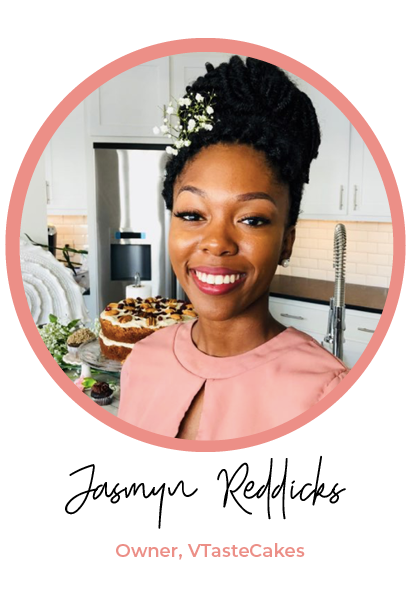 One year later, Reddicks transferred to the University of Georgia to be closer to family. After changing her major three times, Reddicks found the perfect mixture of food and business in the food industry marketing and administration major.
"I always had a passion for food and I didn't know that there was a whole career side to that other than being a chef," says Reddicks.
Reddick's major allowed her to gain experience in two different industries.
"I learned the foundation of starting a business, but also the science behind the food," says Reddicks. "I wanted a balance because in order to run a business you kind of have to know the logistics behind it."
Rising to the Occasion
Amidst five classes and a side hustle, Reddicks entered a sustainable entrepreneurship competition during her fourth year at UGA.
The task of the competition involved creating a sustainable food item or food that helps the environment. For Reddicks, the sustainability aspect sparked the vegan cupcake idea.
"I always knew that I wanted to incorporate vegetables into dessert, but I never had the capital to really test it out," says Reddicks.
Each group received $1,500 upfront to develop their idea, and the competition taught participants how to craft a business plan.
Despite the program guidance, Reddicks notes the difficulty of the eight-month competition.
We went against two graduate teams and we were the only undergraduate team and the only minority," says Reddicks. "One of those teams already had a business, and they already won an entrepreneurship competition."
The secret ingredient to Reddicks motivation; however, is partially because of this adversity.
"Especially with minorities, it's pretty much looked down upon or people think that it's not going to be successful," says Reddicks. "I also feel like people just think that women aren't really capable of [owning a business]. But if anything, it makes me more determined, more competitive."
A Cupcake for Everyone
Reddicks spent four out of the eight competition months perfecting her product: plant-based, vegan cupcakes.
From maple walnut spice to lavender vanilla, Reddicks and her team dedicated six hours each week combining flavors and ingredients until they found the right recipes.
Although Reddicks isn't personally a vegan, she made the executive decision to nix the animal products from her cupcakes.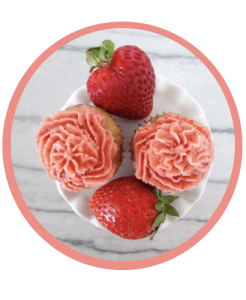 "I wanted to encourage people to try plant-based diets, because just by cutting out some meat consumption, you can actually help save the environment and emissions in the air," says Reddicks.
Changing from a meat-based diet to a vegan diet is one of the best ways to minimize your total ecological footprint, according to a study conducted by two University of Oxford scientists.
After multiple taste tests within the vegan and animal-consuming community, Reddicks whipped up a cupcake recipe that satisfied both parties.
"I was like, 'you know what? There can be a cupcake for everyone, it's just kind of normalizing a more sustainable lifestyle. We all want to help the environment in some way because at the end of the day we only have one Earth,'" says Reddicks. "I just wanted to open that door and show that it's possible."
Confident in her product, Reddick faced one final group to determine if her dessert earned the title of a cupcake for everyone: the competition judges.
Sweet Victory
After winning first place and a $5,000 grand prize, Reddicks started to realize she was onto something.
With the help of her family members, Reddicks continues to bake and sell her vegan cupcakes around markets and events in the Athens area.
In the future, Reddicks has big plans for her small cakes. She hopes to conduct her business from a commercial kitchen, sell in retail and eventually sell across the U.S.
"I never would've thought that I would be doing this at this age," says Reddicks. "I always thought I would be successful, but I think it made me realize that anything is possible…This is my only life, so why not make the best of it?"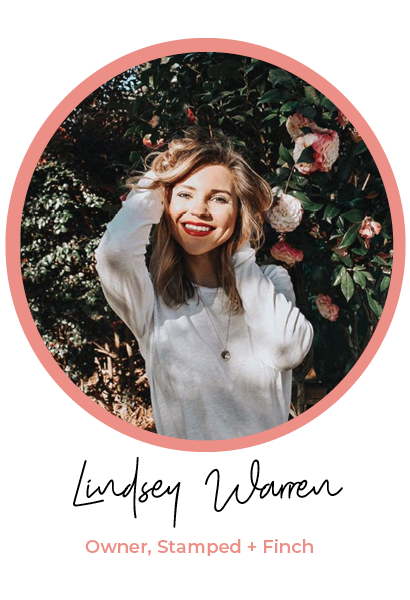 Hobby turned Business
For Lindsey Warren, the process of becoming a business woman was a little bit different than Reddicks' journey.
Warren's sister needed to raise money for a mission trip and the two worked together to brainstorm fundraising ideas.
Using her creative, crafty nature, Warren broke out a metal stamping kit she received as a gift and started making and selling hand stamped, metal trinkets to fund her sister's trip.
This helping hand moment turned into Warren's business, Stamped and Finch.
Formerly a child life specialist and neurodevelopment teacher, Warren decided to pursue Stamped and Finch full time when she and her husband moved from Atlanta to Athens.
One-Woman Show
Warren personally stamps every gold necklace, packages every silver ring and ships every copper bracelet.
She works from a small studio tucked in her basement. Metal pieces and stamping parts scattered along her long, narrow desk.
In a typical month, Warren completes over 200 orders. So far, Warren's Etsy shop records over 5,600 sales.
Warren notes that being a one-woman business can be stressful because she's responsible for all of the workload. At the same time, Warren enjoys the flexibility of making her own hours.
Although Warren is comfortable with her business, she hopes to hire a few people in the future.
Shared Moments and Stories
Fittingly, the gift giving aspect of Stamped and Finch is one of Warren's favorite parts about her business.
I'm part of people's stories. I get to create pieces that help them remember special events in their lives or be a special encouragement for them that they look at as they go through their day," says Warren.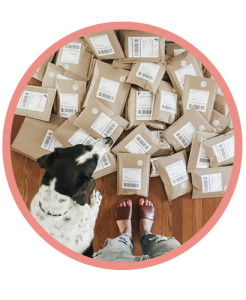 "I love being a part of the gift giving process that really embraces the intentionality of friendships and other relationships."
Through social media and an online store, Warren grew her story book with each order. Currently, more than 7,500 people follow Stamped and Finch on Instagram.
Warren appreciates each how each person chose to follow Stamped and Finch's story. She notes that maintaining a genuine relationship with her customers is the core of her business.
"I think one of the big things that owning a business has taught me is it's best to stay in your own lane," says Warren. "You can't be everything to everyone and make everyone happy. You just have to do your absolute best and be your most authentic self and find your customers who really love what you do."
Mallory Thomas is a senior majoring in journalism in the Grady College of Journalism and Mass Communication at the University of Georgia.