University of Georgia Athletics will be busy the next few days, as many teams will be working for the weekend.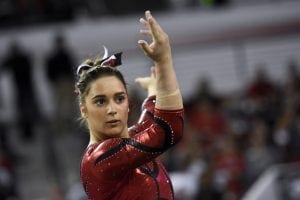 Gymnastics
This Saturday, the UGA Gymnastics team will be one of six hosts for the 2016 Gymnastics Regionals.The 8th ranked Gym Dogs will be one of six teams in the region, which also include Michigan State, No. 23 George Washington, No. 21 Arizona, No. 14 Oregon State, and No. 3 LSU. The top two teams from each regional will get an automatic bid to the national championships in Fort Worth, Texas.
Softball
The 9th ranked UGA Softball team begins its three-game home series versus 10th ranked LSU on Friday and will continue through Sunday. The Bulldogs shot up in the rankings from 12th after their three-game sweep of then No. 4 Texas A&M. Conversely, the Tigers dropped from 6th to 10th after the number one team in the nation in the Florida Gators came to Baton Rouge and swept LSU.
Baseball
On Friday, the UGA Baseball team will begin their two-game series against Alabama on Friday and will continue on Saturday. The Diamond Dogs have lost six of its last seven games and the Crimson Tide has lost two of its last six, so something will have to give in this two-game series. UGA is 15-11 overall with a 2-4 conference record, while Alabama is 15-9 with a 4-2 conference record.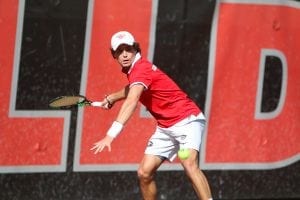 Men's Tennis
On Friday, the UGA Men's tennis team will travel to College Station, Texas to take on 11th ranked Texas A&M. The 7th ranked Bulldogs jumped A&M in the rankings after UGA defeated Kentucky last Sunday and the Aggies fell to now No. 2 TCU on Monday. The Bulldogs will then be in Baton Rouge on Sunday to face LSU.
Women's Tennis
The 4th ranked Women's tennis team will remain in Athens to face Missouri on Saturday. The Bulldogs were ranked third until its loss at Vanderbilt last Saturday. The Bulldogs remain strong with a 13-2 overall record and a 6-1 conference record.
Track and Field
The UGA Track and Field team will be in Gainesville, Florida from Friday to Saturday for the Florida Relays. All eyes will be on UGA junior sprinter Maurice Freeman, who ran a 45.77 second 400 meter dash last weekend. This time is the quickest 400 meter dash so far this season and is the fifth fastest time for this race in UGA track history.
Women's Golf
Starting Friday, UGA will host the Liz Murphey Collegiate Classic Women's golf tournament and the tournament will continue through Sunday. The 7th ranked UGA Women's golf team is one of the twelve teams in the field, also featuring No. 6 UCLA, No. 5Northwestern, No. 4 Arkansas, No. 3 Alabama, No. 2 USC, and number one overall Duke.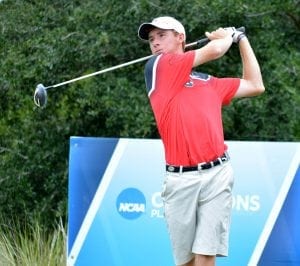 Men's Golf
The UGA Men's golf team will travel to Augusta for the 3M Augusta Invitational, which will be played on Saturday and Sunday. The 3rd ranked Bulldogs are one of the headline teams in the tournament, also featuring No. 35 Augusta, No. 32 Houston, No. 14 South Florida, No. 4 Illinois, and No. 2 Texas.
By Zak Huberty