ATHENS, Ga.–At the Barrow Schools work session questions were raised after Assistant Superintendent of System Operations, Joe Perno, gave his committee report on the progress of the amphitheater.
Most of the board is ready to go and approve the project, but they want to wait for confirmation from acoustical engineer to make sure the site is good.
But other members of the board have some concerns. Board members Ricky Bailey and Rolando Alvarez are concerned about the long term use of the amphitheater. As a life time resident of Barrow County, Alvarez remembers past projects being built and going to waste.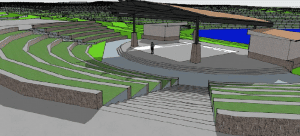 Bailey is mainly concerned about the costs of maintenance. The grassy seating levels of the amphitheater make the amphitheater's seating like a picnic in the park. But having grass means it would have to be maintained all year.
Other concerns about the project include future revenues and possibly adding in a fence in the designs.
By: Brett Homer