In a district where there are more than 20 schools, finding affordable housing for the Athens-Clarke County teachers who teach the students at these schools can be difficult. The amount of money a teacher makes per year is one important factor in determining if they will be able to live in the area they teach in.
With more than 13,000 students enrolled in Clarke County's school system, teacher retention has been a targeted issue, according to the 2018 Clarke County School District Legislative Agenda.
Teachers in Athens-Clarke County are paid according to their level of education and the number of years they have been teaching, according to Larry Hammel, the chief financial officer of Clarke County School District.
Breaking Down Teacher Salaries
Athens-Clarke County uses a pay scale that pays teachers and professionals using a "step" and certification level system. Steps refer to the number of years a teacher has been teaching, while the certification level equates to the level of education a teacher has earned. As the step and certification levels increase, so does the total pay.
Why It's Newsworthy: Teachers' salaries are tied to government funding budgets, but even with increases, they still make less than workers with similar education levels. This pay gap affects their ability to secure affordable and efficient housing in Athens, where the public school teacher population is 1,148.
"About 45 percent of the funding [for teacher salaries] comes from state funds, and the remaining funding made up of property tax revenue, unless the position is funded by federal funds which would cover 100 percent of salaries," Hammel said.
Gov. Nathan Deal's proposal for Oct. 1, 2018 through Sept. 30, 2019 included an increase of over $9 billion, most of which would go toward student enrollment growth and "routine adjustments to teachers' salaries."
An "improved financial compensation package" was one of the goals listed in the legislative agenda as an attempt to promote teacher retention. Aside from middle and elementary school teacher average salaries, public school teachers made less than the state average in 2017 as shown in the graph below. There was also little difference in the salaries of preschool teachers. The average for preschool teachers in Athens-Clarke County was $29,480 and $29,920 for Georgia overall.
These differences in salary averages in turn affect teachers' access to affordable housing in Athens, where 67 percent of University of Georgia students also live off campus.
"The University of Georgia student market plays a significant role in making housing prices and rents unaffordable in Athens," according to the 2015‐2018 Consolidated Plan for Housing and Community Development. "Parents often buy their children in college homes to live in with three to four roommates and then upon graduation, rent the units as income producing property. Single-family homes have become lucrative investment properties. "
Housing Costs Present Affordability Problems
The median price of homes currently listed in Athens is $219,900 and the median rent price is $1,200, as reported by Zillow. Zillow also reported the median price of homes currently listed in Georgia in general is $250,000 while the median price of homes that sold is $179,400. The median rent price statewide is $1,350.
To provide an estimate of how much a family or individual could potentially afford to spend on a house, many financial and real estate companies have created online calculators, such as the example calculation from Zillow shown below. The annual income included in the calculation is based off of an Athens-Clarke County average high school teacher's salary.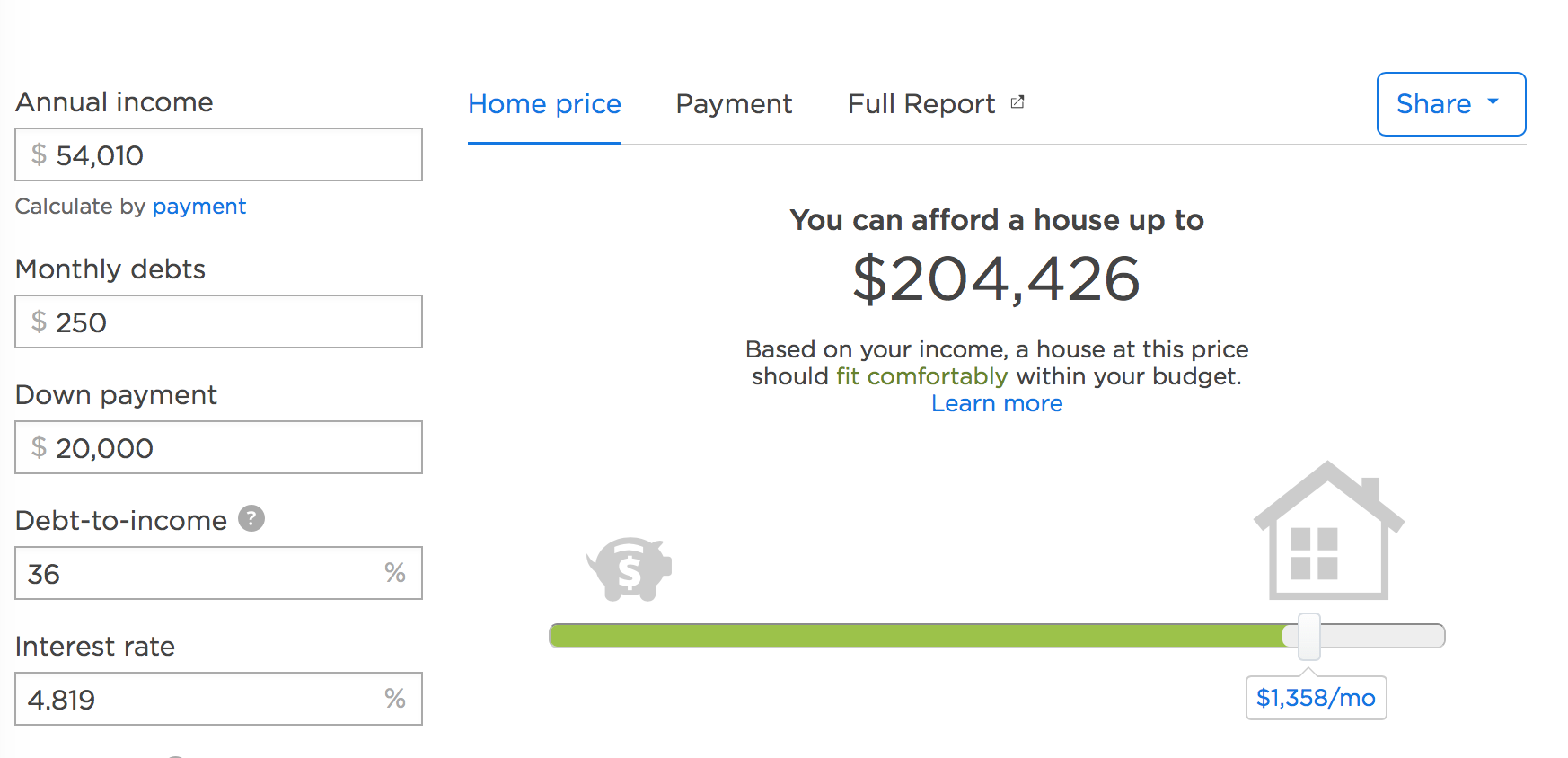 While the above calculation is based on a single income, when other variables are changed, such as monthly debts or down payments, the affordability amount decreased.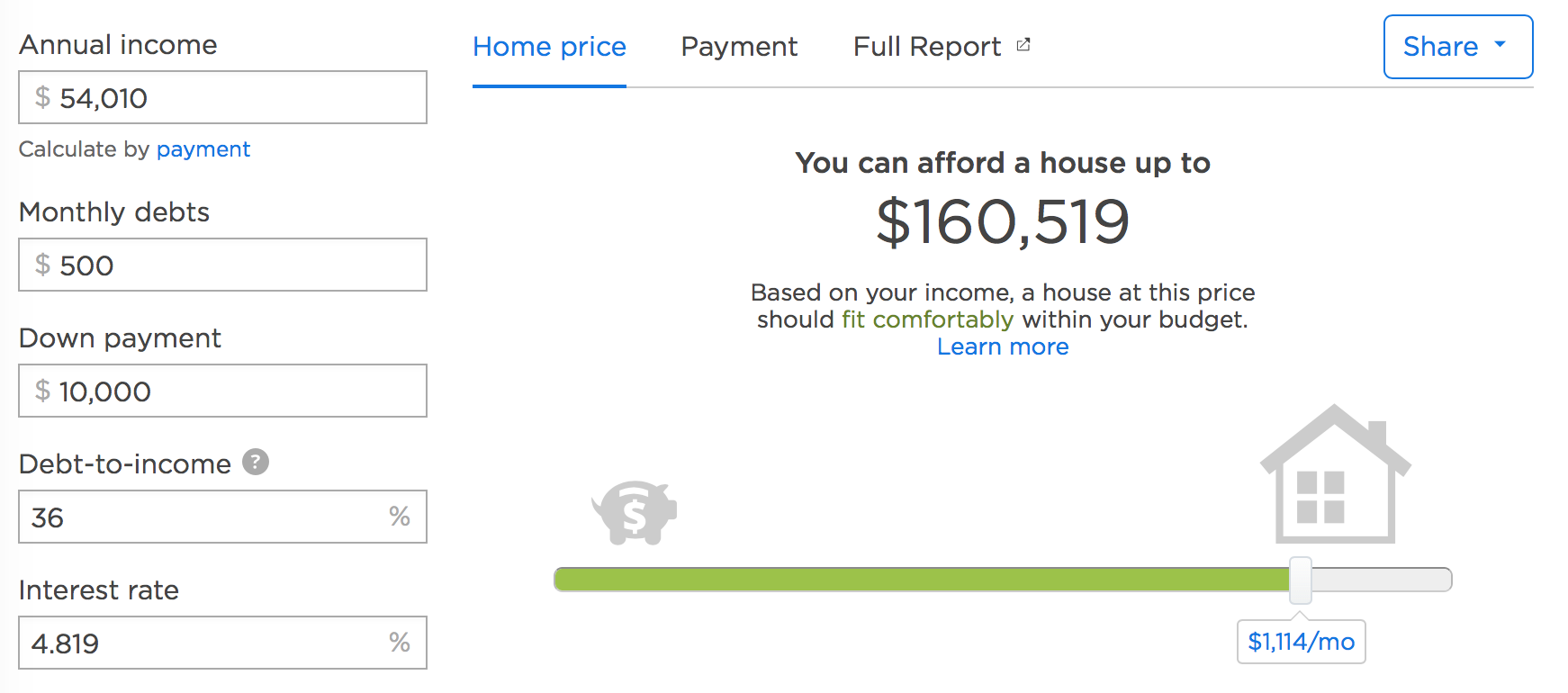 Even though home affordability calculators like Zillow's and others may be helpful in getting a broad idea of what a family can afford to buy, these calculators do not specifically take into account household size, children or other expenditures need to be paid. Other factors such as these affect the portion of a household annual income that can be spent on buying a house.
The Athens Housing Authority is one organization that seeks to fill the gap for low- to moderate-income families to gain access to affordable housing. But according to Marilyn Appleby, the Athens Housing Authority communications director and property manager, teachers are not a main demographic of its services.
"I know we have had a few residents who either have worked or do work for Clarke County School District as para-pros or in food service, but I do not remember any teachers applying or accepting housing with us in the past," Appleby said.
Appleby explained their working families tend to be in the hospitality industry, manufacturing or in health care as home health aides or allied medical areas.
Most of the families the Athens Housing Authority serves tend to earn less than 60 percent of the median income, which in 2016 was $33,116 according to the United States Census Bureau.
"The starting salary for a teacher would disqualify for him or her from public housing if the family was comprised of one to three people," Appleby said. "Teachers working for several years would also be over [the] income [limit] for public housing."
However, affordable housing for teachers isn't an issue that only affects Athens.
How Other States Address Teacher Housing Issues
In other areas in the United States, districts have proposed creating entire housing communities specifically for teachers due to high costs of living. San Jose, California is one location where the school district wants to turn old school buildings into affordable housing units. A 2015 quarterly report from the National Association of Realtors showed the median sales price of a San Jose single-family home to be $980,000.
In Washington, D.C., two schools have merged into one building, with reserved space for affordable housing units to accommodate "young teachers without families who are on the low end of the teacher pay scale."
As for Athens, government budget adjustments have served to aide in increasing teacher salaries, which would result in more housing options for an important sector of its workforce.
Kristen Adaway is a senior majoring in journalism in the Grady College of Journalism and Mass Communication at the University of Georgia.