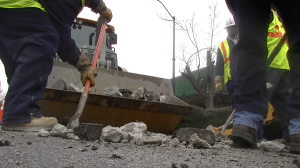 Athens – Taxes in your county could be on the rise if Georgia's House of Representatives passes a new transportation proposal. The bill would raise 1 billion dollars to help with the state's transportation problems.
House Bill 170 could help repair Georgia roads. However, the passage of the bill could result in an immediate gas tax hike as it would give local governments free rein to raise local gas taxes in the future.
Athens Clarke County Engineering Administrator Jerry Oberholtzer says that there are plenty of projects that desperately need the money.
"There are great needs, there are bridges that have to be replaced. But we have a lot of projects that are sitting waiting to be done, we have maintenance that needs to be done. Also our pavement program…It's about $2 million a year, but we really need $3 million a year to keep our roads at a good enough level to ride on," Oberholtzer said.
Instead of raising taxes on gas, Madison County is proposing to take the money from local SPLOST funds which would take $350,000 a year away from Madison County schools. Madison County Superintendent Dr. Allen McCannon says the whole situation is deeply upsetting.
"I was really frustrated about this because we take the rules that are given to us and we try to do what's best for our students and taxpayers. The problem is if this law goes through, it would affect next years SPLOST and so, you see, you're taking about $1.3 million…and that's a lot of money," McCannon said.
Counties and cities that want to make up the lost funding may end up doubling fuel taxes from three 3 cents to as high as 6 cents per gallon to make up for the deficit.
House Bill 170 is still in limbo, but it will have to be passed by March 13th in either the House or Senate to remain active for the last 10 days of the session.
Stay tuned to Grady Newsource to find out how this bill fares in the House.