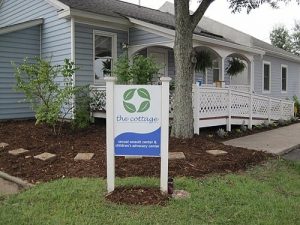 By Shaunteri Skinner
The Cottage will host its annual event to raise funds for victims of sexual abuse. The event happens as the It's On Us-National Week of Action continues. "Unplugged for The Cottage" takes place on Thursday, Nov. 12 at Little Kings Shuffle Club on West Hancock Avenue in Athens, Georgia.
Musicians will play during a silent auction that night. Guitarists are encouraged to replace one of their guitar strings with a blue one, such as the one seen below, to represent male victims of sexual abuse. Fourty-one adult survivors have entered the doors of this facility since the beginning of August this year up until Nov. 7. The majority of them identify as female according to Sheppard, but 1 in 6 males experience sexual abuse before the age of 18.
The executive director of The Cottage Sexual Assault Center & Children's Advocacy Center in Athens, Sally Sheppard, explained why fundraisers like this matter to the organization's mission. "It is important for these people to have support because a lot of them don't know what's out there," she said. "They need to know that they have that safe space to come to for help. We have this fundraiser to continue to provide that."
The Cottage provides support for victims of sexual abuse by placing them with advocates who provide counseling and medical resources. Tickets will be sold at the door for $15. They can also be purchased on their website.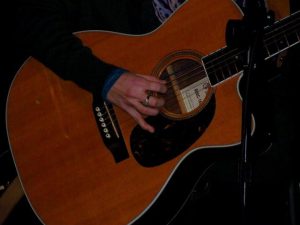 If you need assistance, call the crisis hotline at 1.877.363.1912. For an emergency, call 9-1-1.