The Watkinsville Police Department joined over the weekend with local church leaders and members to connect with the community in light of the pandemic and protests across the country about police brutality.
This was one of many events happening across the United States organized by Faith & Blue, a national initiative to bring together police officers with their communities through houses of worship.
Why It's Newsworthy: Faith & Blue, a national initiative working to bring together police officers with their communities through houses of worship, hosted events across the country last weekend working to combat sentiment against police officers in light of protests about police brutality.
During the kickoff event Friday night at Harris Shoals Park, about 50 people, ranging from kids to older adults, ate tacos from Catch 22 Gastropub in Athens and pizza from Fox's Pizza Den in Bogart while talking with police officers.
"This event is really all about being able to socialize and mingle with us, get to know us, for us to get to know you," police Chief Shannon Brock told the crowd Friday night. "My job as a police chief and my job as an officer is not to leave these officers to do law enforcement work, it is to help my community have these officers serve and ensure I provide quality service through that bridge building."
Faith & Blue on Newsource at 5
Out of six Watkinsville churches that were invited, only two — Revival Baptist Church and Watkinsville First Christian Church — showed up, said Tiffany Staples, a member of Revival Baptist Church.
Brock said he wished more people attended, but he said he was happy with the smaller-than-expected turnout. The event was a foundation for more events like it, he said, while music blared, church members laughed, and kids played cornhole and an outdoor, large-size Connect 4.
Brock said one of the biggest problems in the U.S. is hate toward police officers, especially in the shadow of 9/11's 20th anniversary.
"The officers and firefighters that ran into those buildings on 9/11 did it because they loved people. They wanted to save people," Brock said. "20 years later, we're vilified. We're the villains. We're the bad guys in some people's lives. If that same event was to occur, we would run in that same building, regardless of whether it's going to crash or not."
2020 marked a transformative year filled with protests against police brutality across the country. Breonna Taylor and George Floyd's deaths at the hands of police officers, and the death of Ahmaud Arbery in Brunswick, Georgia, where three white men have been indicted, sparked Black Lives Matter protests in which people called to defund the police and reallocate funds to non-policing forms of public safety and social services.
"The past year and 2020, as we know, was a very rough year. A lot of different things were going on as far as law enforcement in the community, COVID-19 and an election," said police officer Brandon Torrence. "This is a way that we can bring our communities back together and bring us back as what we are as America in one unified people."
Staples said she thought more churches would come, but she and fellow church members were happy to attend for two purposes: to show support for police officers and first responders, and to reach more members.
"We're trying to grow our membership, revitalize the church, infuse as much youthfulness as we can get and support our police officers the best that we can," she said.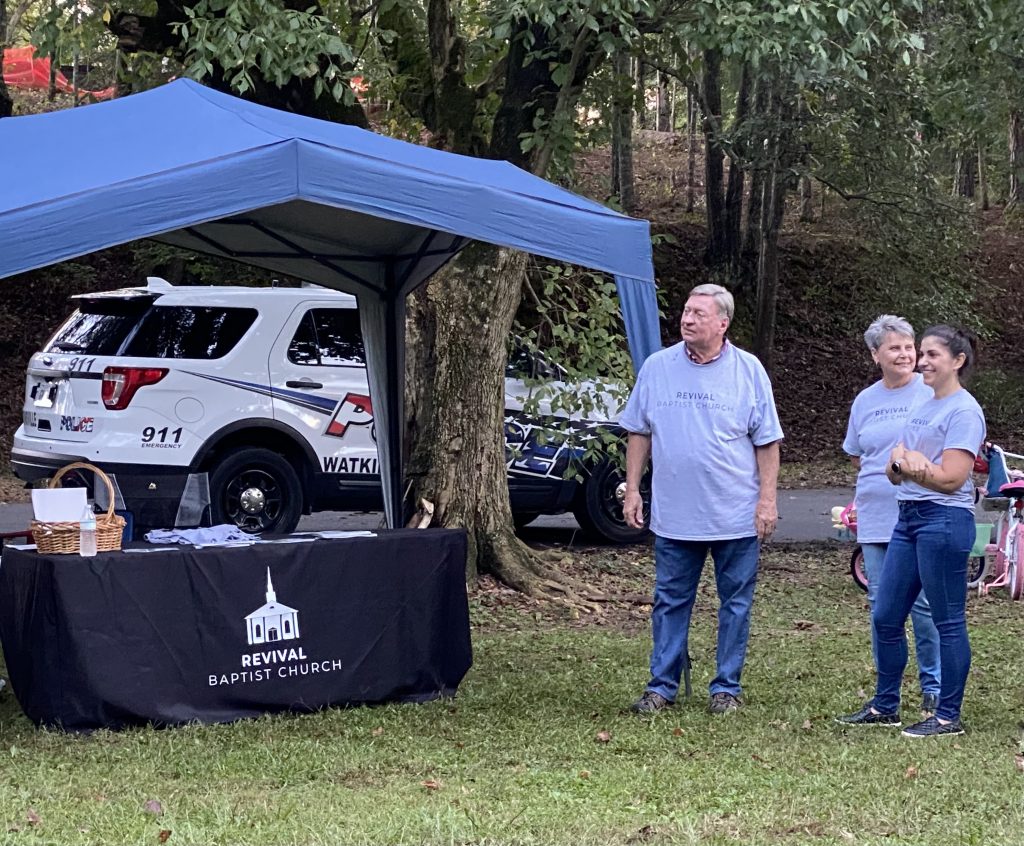 The church's revitalization, which started in February, has grown from a dwindling five-member congregation to now 20 members, Staples said.
Brock introduced two members from each of the churches and six police officers, five in uniform and one out of uniform, to the crowd.
"I'm just excited to see everybody that's here, that we are able to join together in this beautiful spot of Harris Shoals and that the Watkinsville police department is so community-oriented," said Sheila Hunter from Watkinsville First Christian Church.
Brock said there are going to be more events to bridge gaps between law enforcement, faith leaders and the community.
We don't exist if y'all don't let us exist," Brock said. "We're here because of y'all."
Faith & Blue's national weekend continued in Watkinsville on Saturday morning with a prayer walk and a bake sale, and Saturday night with the showing of "Courageous," a faith-based film, at Rocket Field. The last event was a coffee with police officers and faith leaders for community members Monday at Jittery Joe's in Watkinsville.
Mikaela Cohen is a graduate student in the Master of Journalism program in the College of Journalism and Mass Communication at the University of Georgia, and she graduated with a bachelor's degree in journalism and a bachelor's degree in international affairs from the University of Georgia in 2020.