ATHENS, GA. — Red x's drawn on hands and t-shirts sprinkled the University of Georgia's campus last Thursday as some students symbolically "x-ed out" modern-day slavery. Over 1,000 University of Georgia students participated in the day's events. They say they joined the fight against human trafficking on the END IT Movement's "Shine a Light on Slavery Day".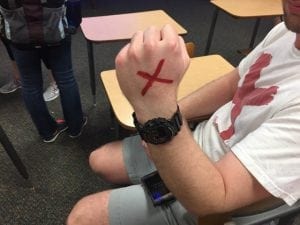 "Both of my parents immigrated here from Vietnam, where child sex trafficking is unfortunately very common. This is why I'm passionate about human trafficking", said UGA student Christina Dinh. She says, "Slavery still exists. I think our generation is 100% capable of eradicating modern-day slavery for good. Young adults must educate themselves, raise awareness in their communities, and lobby for laws and petitions that will put more funds in place to build safe houses."
The END IT Movement is an Atlanta-based organization that grew from Passion City Church and 15 other anti- human trafficking organizations. Its in fifth year, the END IT Movement calls for celebrities, athletes, and everyday citizens to join the fight against human trafficking.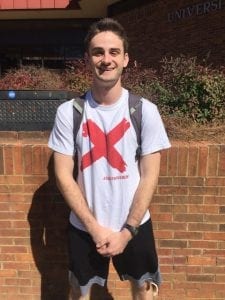 The END IT Movement defines slavery as one person completely controlling another using violence or the threat of violence to maintain that control. Human-trafficking– or modern-day slave trade, refers to the illegal trade of human beings through abduction, the use of threat or force, deception, fraud, or 'sale' for the purposes of sexual exploitation or forced labor.
The International Labor Organization (ILO) reports that there are an estimated 21 million victims of human trafficking today. The ILO also reports that the human trafficking industry generates $150 billion in illegal profits annually.
Dinh says she's optimistic about the future of human-trafficking. "I hope that through Shine a Light On Slavery Day, students leave campus today wanting to learn more, speak up more, and most importantly fight more for this is nothing short of a social revolution."
Follow @GradyNewsource for breaking news and top stories!
By: Donovan Harris