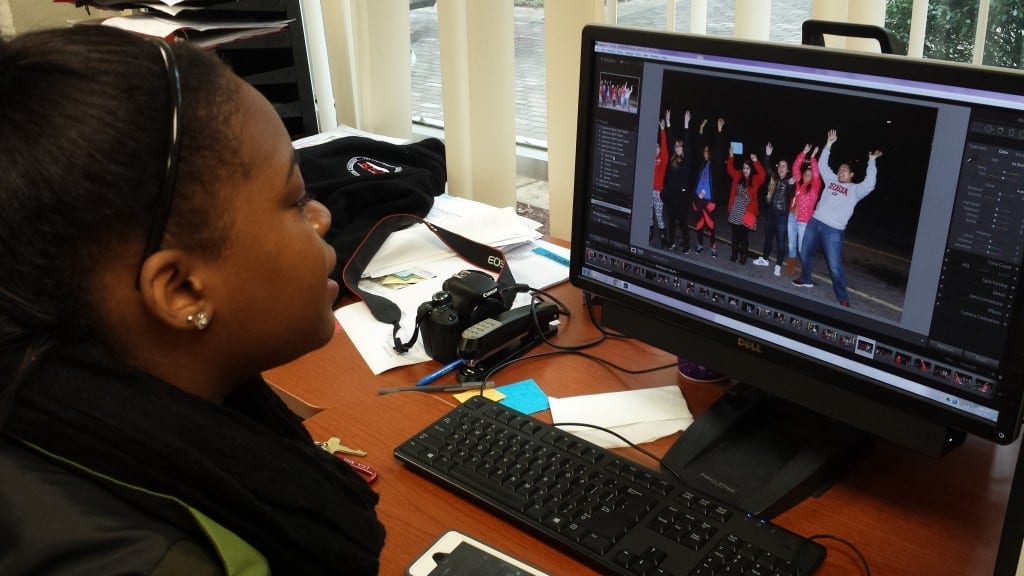 The Residence Hall Association boardroom is cluttered with "giveaways." They are t-shirts, mugs, water bottles, and even stuffed animals, all embroidered with the RHA logo. Executive board members and volunteers are crowded around with overlapping voices. When Juanne-Dae Thomas stands before them, it becomes quiet. She reads off a list of names and designated areas and once she finishes, the sound returns.
"Are you loading the vans right now?"
"I gave you two folders. Give one to the bus driver."
And "Good luck everyone."
They disperse, filing out the door one by one taking something with them, a stack of papers, a box of t-shirts, a tent, a table. They are getting ready for Roll Bounce. An event that Thomas and her fellow RHA executive board members have been planning since November. The event starts at 8:00 and they are in their final preparation stages. The buses begin their rounds in two hours transporting university students to the Fun Galaxy Skating Rink in Athens, Georgia. It's a good night to go roller-skating.
Earlier in the day, the shadows of leaves from nearby trees patterned the benches and tables outside the RHA boardroom. The sun was high and bright. It was beautiful and surprisingly warm for a February afternoon. Juanne-Dae, called JD by her friends and colleagues, fluttered into the boardroom wearing a plaid skirt with black tights and her RHA exec board t-shirt, ready to seize the day. As historian and Program Head of this event, she came in early to ensure everything was in order.
"I document every kind of program we do." Thomas simply says. She assures that the most important part of her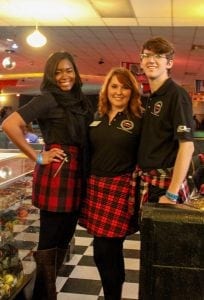 job is to make sure students have a good time, and make friends. Officially, her job entails, maintaining inventory, producing the Resident, which is the University of Housing Newsletter, and corresponding with the historians of all community councils not only to make sure they are documenting their events satisfactory but to also create a yearbook of all the events that take place throughout the year. Today, however, she says, "I will be running around like a crazy person with my head cut off this whole night." As Program Head, Thomas is essentially the organizer of the event, tasked with assigning bus drivers to buses; bus route attendants, registration table attendants and other positions that will help the night flow by smoothly. Thomas is in a pretty demanding position and a position she may not be in today had it not been for an impulse decision she made her first semester at the University of Georgia.
From an egg, Juanne-Dae Thomas slowly emerged, a caterpillar entering an environment entirely new. She responded to one of the flyers advertising the need for more community council members, littered around the Brumby Residential Hall. "I thought I have no friends. I know no one. You might as well join you might meet someone and I met my best friends." Trinity Martell now a Resident Assistant (RA) at Brumby, is one them, and two others in particular have also become a executive board members, the treasure David Roberts and the National Communications Coordinator (NCC) Morgan Pippin. It was a first semester for them all.
David Roberts pauses, scratches his chin and looks out with squinted eyes behind his glasses before describing her as "forceful in a good way. If she wants something to get done she'll say 'I need you to do this now!' We both push each other to accomplish our goals." When it comes to discussing JD, Trinity Martell can do nothing but smile. She bounces her head frequently and looks off into the distance as if pondering specific moments with Thomas that correlate with every question. "I would describe her as her favorite thing which is a butterfly. She absolutely loves butterflies." This is especially obvious. Everything from the Roll Bounce event email subject title, art hanging on the walls in her room (both self created and purchased) and even the stickers placed on the sign in sheet hanging on the inventory room door are all butterflies. "That's how you know it's mine." Thomas explained. "I think of her as a social butterfly because she really likes talking to people," continued Martell. Morgan Pippin, on the other hand, recalls Thomas before her wings completely unfurled.
Pippin walks into the RHA boardroom in a plaid skirt and tights very similar to Thomas's outfit. They hug excitedly at this occurrence.
"Did ya'll plan that?" Roberts asks.
"Yes." They respond together.
"Why didn't ya'll tell me? I have a plaid shirt I could have worn around my waist."
"You still have time." Thomas reassures him.
They decide to send a GroupMe message to the other exec board members telling them to incorporate plaid into their outfits. Morgan Pippin sits down in the office chair across from the computer reminiscing on her early memories of Thomas who is sitting on the couch to the right of her. "She was secretary at first and she sat over there and typed and she didn't really talk or anything else." In her Chrysalis stage, Thomas grows until her wings becoming cramped inside the cocoon. She was soft spoken, skittish, and very light hearted. "She's not afraid to make decisions and that's really just cool because I remember her last year not saying things and now she's incredible fierce I mean look at that hot make-up." says Pippin.
An incident that explains her newly formed wield and vibrant wings can be attributed to when she prohibited anyone from entering the basement which is where their inventory is kept. "The basement is my territory." Thomas asserts, "It took me a while to organize and get the basement clean. The next time I went down there, it was destroyed so I banded everyone." Another colleague of Thomas is Justin Lee, President of Residence Hall Studios (RHS) who ensures that she is always getting and giving the best of everything. "She's a very straight forward person but she also understands and cares a lot about other people but she will never sugar coat things. She's very direct." Besides fulfilling many requirements and demands as president of his own organization, Lee is a sort of liaison between RHA and RHS. He and Thomas also work together to keep the basement key under lock and code in his office that no one but the two of them know. In regards to Thomas's behavior on this issue he states, "Sometimes you need someone to just sit there and smack someone and say 'hey, no'."
Juanne-Dae Thomas displays her outgoing quality when she speaks to the executive board members and volunteers. Her bangles sing as she waves hand with the paper around. On the wall to her right hangs a column of names of all the RHA executive board members. Awards are stacked high on the large shelf entering the boardroom to her left. They no longer have enough room to properly display them all. Though the room is quite large the huge table, people and "giveaways" scattered all around make it seem extremely small. As the crowd dissipates, Thomas is the last to leave. Seeing her now, it's hard to imagine that this energetic, soulful person who is always wearing a smile had such a contrasting image just a year prior. Like a butterfly, she has grown and morphed into a valuable part of her community. In this place where they all go their separate ways, Thomas says, "At first I had a plan where I was gonna stay for one more year which was next year but I'm reconsidering. I feel like I wanna stay here for the rest of my life."
By Precious Davis