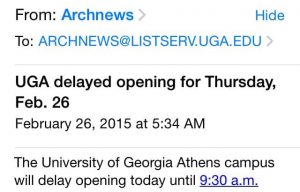 This morning at 5:30 a.m. UGA Archnews sent out an email to students saying that classes would be delayed until 9:30 a.m.
While some students were upset about this, one official said he considered many factors before deciding to delay school. He also said it is actually normal to wait until 6 a.m. to make this decision.
Students are walking around campus today, getting on buses, and going into classrooms. This wasn't a sure thing, though. This weather system passed through and brought a chance of snow. When this happens, Vice President of Public Affairs Tom Jackson said he looks to see if the roads are dangerous before deciding to close campus.
"Generally we go on what the conditions are on campus. Are the roads safe? Are the sidewalks safe?…That sort of thing," Jackson said.
UGA Archnews sends emails to let students and teachers know if classes are cancelled. This email didn't come until very early this morning. Because the email was sent so late, students weren't able to sleep in as they had to set their alarms just in case classes were not delayed. In fact, students had to wait until almost 6 a.m. to find out if they got to stay in bed this morning instead of having to go to class.
Not all UGA students are happy with the decision to delay school so late. Zach Freshley says he thinks the decision could have been made much earlier. "Obviously you have to wait to make sure things won't be super icy in the morning, but you could tell by 10,11, midnight, so I think that midnight at the very latest is when they should have made the decision," Freshley said.
Last night there was a chance of snow until 2 or 3 in the morning. That's why Jackson waited to make the decision. "Most of the weather here in Athens develops overnight, and you can't make a call at 8 or 10 p.m. You just gotta wait and see what happens," Jackson said.
So, unless there is already a lot of snow on the ground, students and staff will need to be prepared to wait.
The normal Archnews protocol for delaying school is to send out an email by 6 a.m. The University will only issue an email earlier if it is clear that the weather will not improve by the time classes are supposed to begin.
Jackson said that they were closely monitoring roads and keeping an eye on the forecast while making their decision. Governor Deal's State of Emergency which was in effect until 10 a.m. this morning was also a contributing factor to the decision to delay school this morning.
Tune in to Grady Newsource tonight at 5.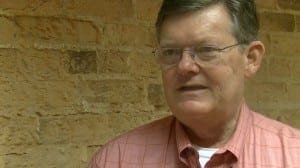 Vice President of Student Affairs Tom Jackson sends out Archnews emails.