On Sine Die—the name for the final day of the Georgia legislative session— Priscilla Smith is found in the hallway of the Coverdell Legislative Office Building writing condolence letters to state legislators who voted to advance the controversial House Bill 481.
Nicknamed the "heartbeat bill," HB 481 would ban most abortions in Georgia after six weeks—the typical time that a heartbeat is detected in a pregnancy. Smith says it's a sad day for these legislators, because they're going to lose their seats for their votes.
Along with a number of other protesters, Smith is dressed in a red cloak intended to look like a character from the popular television show "A Handmaid's Tale." Surprisingly, the cloak is not even the most interesting part of her outfit.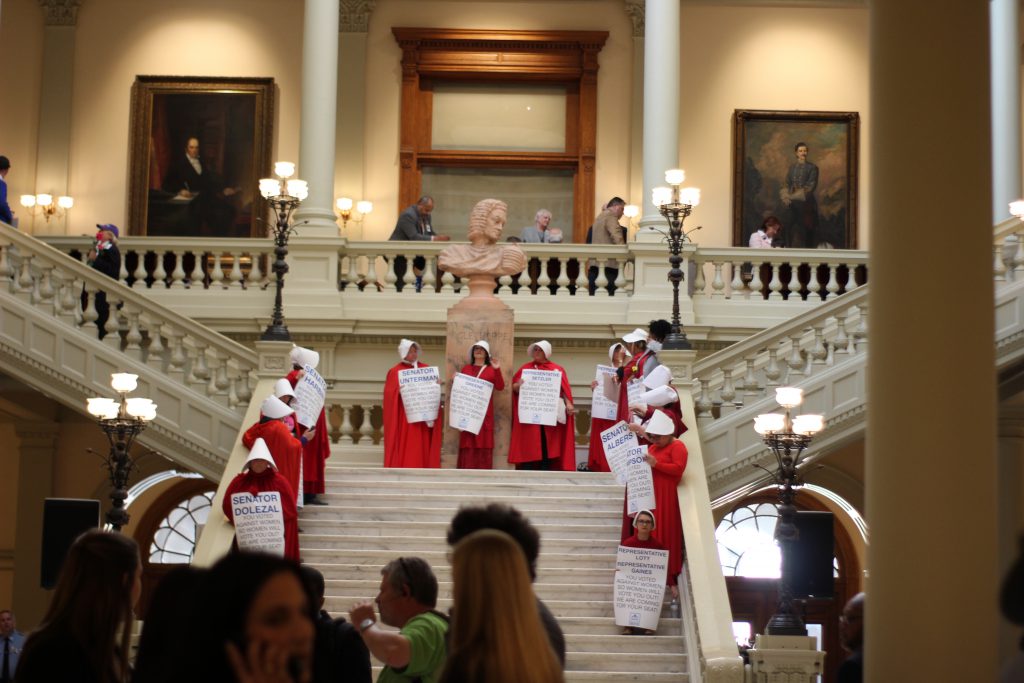 As she has done for over two years, Smith is dressed in a skirt-suit and a red tie that hangs down to her knees. Her face is plastered with orange foundation, stark white powder under her eyes, and her hair is in a short blonde comb-over that lays beneath a purple hat sporting the words "Make America Grape Again."
Since 2016, Smith has developed a persona that she uses as a political activist in Atlanta, Georgia.
Priscilla Smith is not like other activists. Self-described as "the president's worst nightmare," Smith spends her time in Atlanta Dressed as Donna J. Trump, a female alter-ego of President Trump.
A lifelong performance artist, Smith uses her skills and experience to bring awareness to a variety of political issues. In particular, Smith is a strong advocate for funding the arts in schools and women's healthcare.
Why It's Newsworthy: Priscilla Smith is a devoted political activist who brings awareness to a variety of political issues with joy and comedy.
Myrna Anderson Fuller, a long-time friend and fellow activist for the arts, says that Smith's range of knowledge on different political topics makes her an impactful activist.
"She does her own thing always. But the fascinating thing is that she stays abreast of what's going on on the political scene with a wide breadth of information and also interest," Fuller said. "She's always there for to speak the underdog."
During this session of the Georgia legislature, Smith vowed to collect 3 million steps to represent the number of eligible Georgians who did not vote in the 2018 midterm election. Smith explains that some of the voters simply didn't make it to the polls, while others were prevented.
In a series she calls "The People's House," Smith is walking the halls of the Georgia State Capitol during each of the 40 days of the 2019 legislative session. She counts the steps with an app on her phone, and encourages anyone who is at the capitol either for work or advocacy to donate their steps, but she estimated that she would do half a million steps on her own.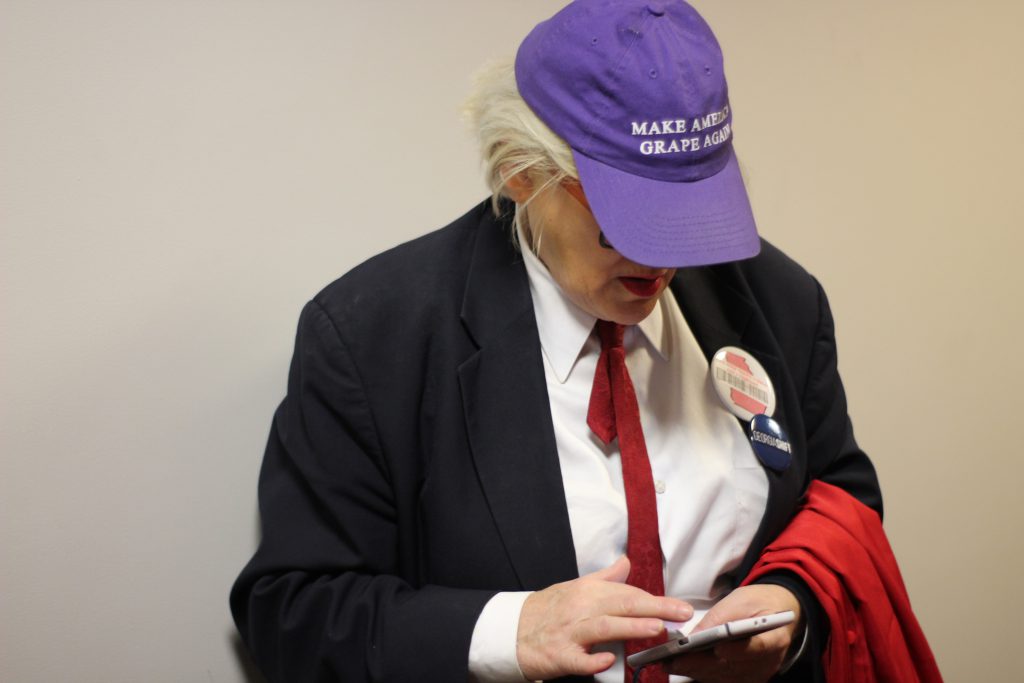 How It Started
Smith has been cultivating this character since the height of the 2016 presidential campaign.
During Halloween weekend 2016, Smith performed in Athens, Georgia with her band at an event called the Wild Rumpus. Smith's all-male band-mates wanted to wear dresses, so Smith decided to wear a suit and tie. With her short blond hair and long red tie, passers-by thought Smith was in costume as the then-presidential-candidate, Donald Trump.
Smith quickly took on Trump's persona, greeting every person she saw, and really getting into character, just for the fun of it.
"I was pushing the boys around and acting like a misogynist," Smith said.
Over the next few weeks, Smith began creating Twitter, Facebook, and Instagram accounts under the name Donna J. Trump. As she gained followers, Smith started showing up to political events in character.
Smith has created quite a social media presence, posting selfies with fans and updating followers with her current projects and events she will be attending.
Smith believes she has something that President Trump doesn't have.
"Women are uniters, we're peacemakers. We bring sides together," she said. "So Donna can do what Donald can't do. She can bring people together."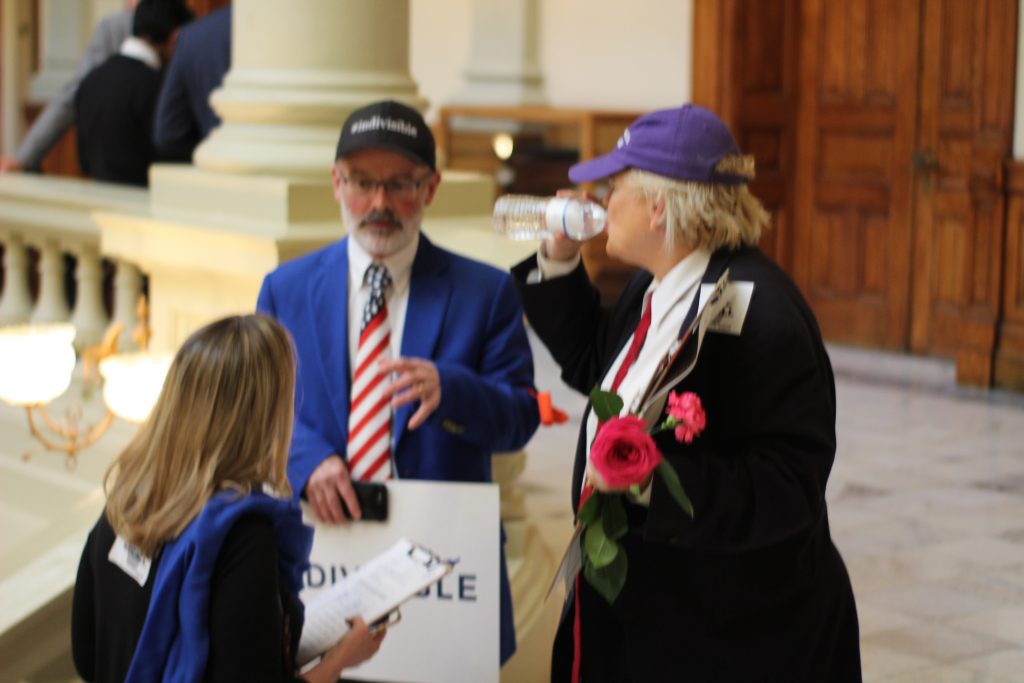 Impressions
Smith manages to stay in character with impeccable vigor. Walking through the capitol, passing hundreds of people, never once does she stumble or waver.
"What strikes me interesting about Donna is not only her commitment to the character she represents and how she brings a spark of joy, but she's also a very committed activist," Isabel Hidalgo, an Atlanta voting-rights activist, said. "I cannot imagine what it is to sustain a character like she does and still become absolutely serious as an activist and comedian."
Other activists in Atlanta find Smith's brand of humor and light-hearted approach to her work heartening and inspiring.
"To have the guts that she has to, to do what she does," Sherrie Mann Stewart said, a long time friend of Smith's. "I love it because it makes an impact and it's very memorable."
Smith acts as a comedic relief for people in times of high tensions.
Although many of the protesters present on sine die are Planned Parenthood members, discouraged by the advancement of the "Heartbeat Bill," Smith's bold sense of humor and striking character manage to impress those around her and make them laugh.
"Whenever I see Priscilla, and I can just relax a little bit and just, you know, we're all in it together and we're trying to make a difference, but at least we can smile," Stewart said.
Now that the legislative session has ended, Smith says she is still totaling the number of steps she collected from January to April. So far she has collected 2.73 million of her 3 million step goal.
Raphaëla Alemán is a journalism and cognitive science major at the University of Georgia.