A priority for the Barrow County School System, from the beginning of the pandemic, has been to keep teachers and students safe. With vaccine rollout now underway, the school district is looking to utilize it for their educators.
Ken Greene, assistant superintendent for support services in the Barrow County School System, said the district communicates with the Barrow County Department of Public Health on a weekly basis.
"We are cooperating and collaborating directly with our local health department … each week, we bring [our] plan more into focus," he said.
Greene said that while they do talk weekly with the health department, the distribution plan is ever-changing, because they have never been given a number of vaccines they'll receive, or a date indicating when they'll receive them.
Once received, Greene said they will immediately begin to vaccinate those who are eligible and would like to take it. However, the district cannot require educators (as well as students, if a vaccine becomes available to that age group) to be vaccinated, though Greene certainly recommends it.
Greene said the district is coordinating with the local health department in making an informational video for the school system dispelling the myths and rumors, and encouraging people to take the vaccine when it is their turn to do so.
On Feb. 22, Gov. Brian Kemp held a press conference announcing that, given the substantial amount of Phase 1A+ citizens that have been vaccinated, and the gradually increasing supply of COVID-19 vaccines, the state is expanding its vaccine criteria within the next two weeks. This expanded criteria will include school personnel, according to Kemp.
"We will be working through that process with [Department of Education], Department of Public Health and local education leaders to ensure they have identified a partner and are ready to get shots in arms as soon as we can," Kemp said.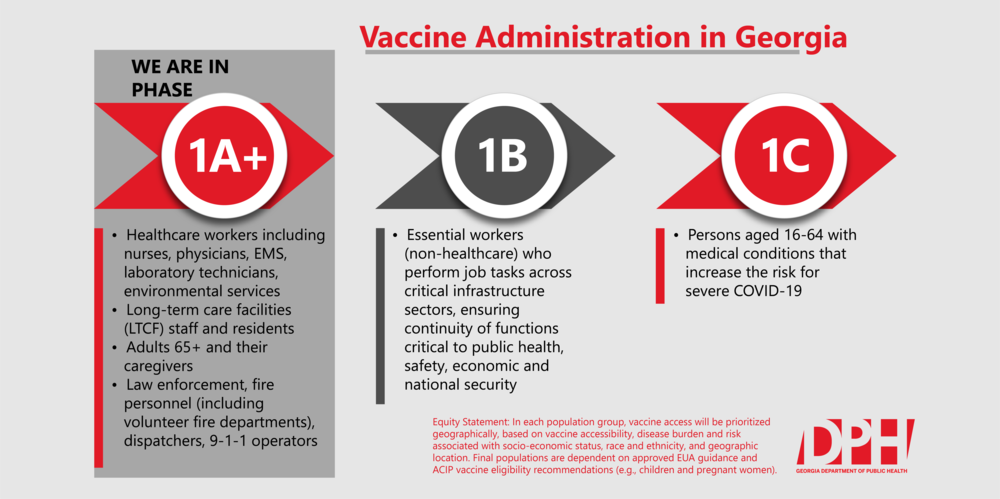 According to the Centers for Disease Control, only 11.2% of Georgians have received the first dose of the vaccine and only 5.4% have received the second "boost" shot. That ranks near the bottom of the list, 47th, for the entire United States.
Teachers, staff and administrators are currently part of Phase 1B of distribution. Those staff aged 65+ and up are eligible for vaccination, but for now, they just don't know when it'll be their turn.
The CDC recently released updated guidelines for when groups should be offered vaccination, and teachers are in Phase 1b. The CDC sees "inherent risk" in their profession, and said vaccines are not a prerequisite to in-person teaching.
Of course, they still strongly encourage masks, social distancing and regular disinfecting of schools, according to the guidelines.
These guidelines leave vaccine strategies for local Boards of Education to themselves, in coordination with their local health departments.
While the district may not know when that time will come, Greene said they know that when it does, they will be ready.
Nick Finch is a junior majoring in journalism at the Grady College of Journalism and Mass Communication at the University of Georgia.