S.G. Goodman returned to the city where she recorded her most recent album to perform March 21 at 40 Watt Club for over 250 people at the Bitter Southerner's 10th anniversary party.
Goodman said this was her first time playing a large venue in the Classic City, despite her extended stay in 2020 when she recorded "Teeth Marks" at Chase Park Transduction.
A portion of the concert's merchandise proceeds was donated to the Hope in the Hills nonprofit. Goodman picked the West Virginia-based charity, which is dedicated to raising awareness and funds for healing from opioid addiction in Appalachia.
"I'm really proud to be able to support them in any way I can because I've lost people to the opioid pandemic," the Kentucky singer-songwriter said.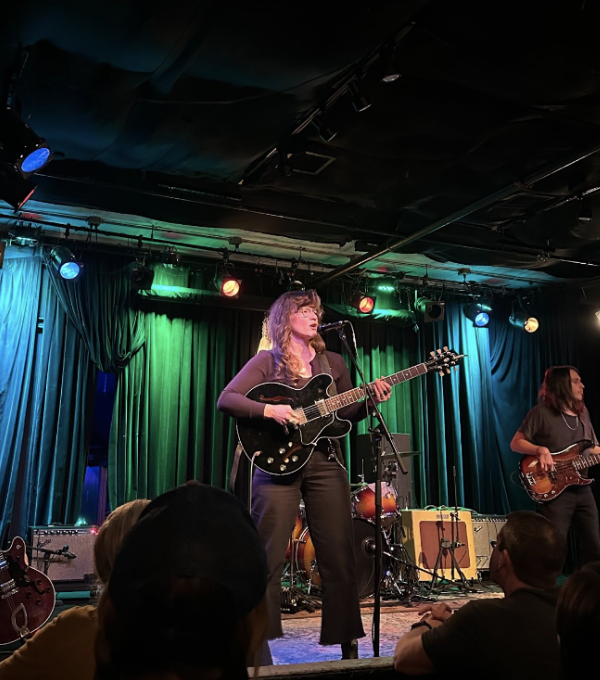 Goodman revealed during her set that the song "If You Were Someone I Loved" on her new folk/country album began as she was wandering the streets of Athens and describes her experience navigating an opioid-caused death of someone in her community.
Goodman's lyrics are infused with Southern pride, lending an authentic quality to her music that honors her heritage as the daughter of a Kentucky farmer. She kicked off her performance with the song "Work Until I Die," which was showcased on the latest season of the Netflix series "Outer Banks."
"I love her music," said the Rev. Allen Cloar, an audience member. "It's really grounded in local community, local small town kind of community, and that gets my attention."
Goodman was featured twice on the Bitter Southerner's compilation of the top Southern records of the year, and she is beloved by everyone on their team, said Kyle Tibbs Jones, the publication's co-founder and director of media.
Alt-country artist MJ Lenderman, who was also recognized on the same list of top Southern records, opened for Goodman.
Joseph Hohenstein, a recent graduate from the University of Georgia's entertainment and media studies and music business programs, called Lenderman and Goodman "the perfect duo" to watch in Athens, highlighting their unique and complementary styles that make for an exceptional musical experience.
The Bitter Southerner team sang "Happy Birthday" and distributed cake to the audience between sets to commemorate the 10th anniversary of the media brand.
The concert marked just the start of the anniversary festivities. The Bitter Southerner launched its annual membership drive March 28, which plays a crucial role in funding its journalism, Tibbs Jones said, and released its fifth print magazine, which is themed "The Birthday Issue."
Phoebe Bagby is a student in JOUR 3190: Reporting and Writing Across Platforms. Photo gallery by students in the Introduction to Photojournalism courses at the University of Georgia.