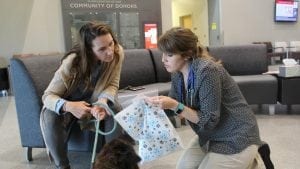 "Roof!" Enzo growled, chasing his sister Lula through the back yard of their Bogart home. They had done this hundreds of times before, only this time, something was different about him.
His coat, speckled with black and brown fur, now had shaven patches throughout it, and as he chased his playful sibling through the yard, one leg was noticeably absent.
It was back in September when Enzo's owners, Teena and Matt Wilhelm, noticed that he was limping, and wasn't using one of his back legs anymore, most likely because of excruciating pain. Concerned, they took him to see their vet in Oconee County, who took x-rays and diagnosed the seven-year-old German Shepherd Boxer with osteosarcoma.
Osteosarcoma is a type of bone cancer that eats away at the bone, sometimes causing fractures. The disease has a very high metastatic rate, meaning it can spread to other parts of the body quickly. When the disease is caught early on, the affected limb is amputated, or treated with other types of surgery, followed by chemotherapy.
While there are ways to slow down the disease's progression, it is generally terminal.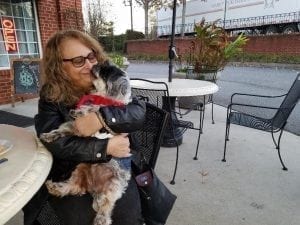 "You're just talking about how much time you have left and what you can do to make the quality of life good," said Teena Wilhelm. "You know that your time is limited, so we had to grieve and figure out a way to tell our kids."
"The diagnosis was tough," said Matt Wilhelm, who found out about Enzo's diagnosis while traveling for work. "It sounded to me at the beginning that it was going to be pretty short as far as what he had left."
Enzo is one of 6 million dogs in the U.S. who are diagnosed with cancer each year. The Wilhelm family grappled with the decision of getting him treatment, a process that can be emotionally and financially draining.
They were unsure about whether they would have Enzo's leg amputated at first, let alone pursue chemotherapy. After his vet diagnosed him, they spoke to a colleague's wife who told them about the University of Georgia Veterinary Teaching Hospital on College Station Road. The Teaching Hospital often conducts clinical trials to study new medicines and vaccines. These trials are sponsored and help to offset some of the treatment costs.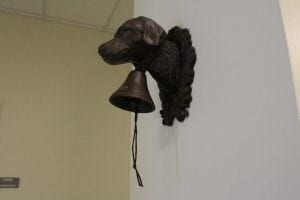 "We really hadn't contemplated going forward with chemo at that point because of the terminal nature of the diagnosis and the expense," Teena Wilhelm said. "Chemotherapy is really expensive, but once she started talking to us about the clinical trial, we started getting interested and thought it might be worth it."
Wilhelm, an associate political science professor at the University of Georgia, was also worried that the commitment it takes to pursue chemotherapy would be too much for her family.
"We thought about it but with the expense and the time commitment involved with taking him back and forth to the hospital and monitoring him, we weren't sure if it was worth it for the diagnosis that he had," she said. "With the clinical trial and me being an academic and working at UGA, it seemed like a good way to help science and to give us more time with him."
The Wilhelms decided to have Enzo's leg amputated, and have him undergo intravenous chemotherapy (IV), which, according to the National Cancer Institute, involves inserting a catheter or needle into the vein and sending anticancer drugs into the blood to kill the cancer cells in the body.
Enzo received IV treatment every three weeks and visited the hospital regularly for bloodwork. After completing his fourth treatment, he completed a screening to start a clinical trial and has begun taking about four months' worth of an experimental drug at home.
The Wilhelms paid for most of Enzo's leg amputation. The clinical trial covers a part of the surgical costs because participants must be amputees, and all other cancer treatments are paid for by the clinical trial.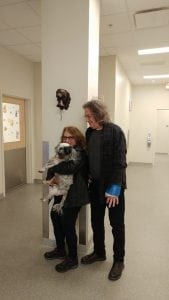 Enzo has adjusted well to having three legs, and aside from minor side effects like fatigue, occasional vomiting, and a heavily monitored diet so he doesn't put too much weight on his leg, he's just like any other dog.
"Post-surgery, he got up basically as soon as they woke him up, so he had no trouble," Teena Wilhelm said. "Typically, about a week after a treatment, he gets a little more lethargic and a little more tired, but you can't tell he's on chemo. You can't tell he's anything but a normal dog."
Enzo likes going to the hospital and seeing the staff.
"He likes all the people, they love on him, and he's excited," she said.
Enzo is doing well, and both his family and the doctors at the UGA VTH were ecstatic to see that his x-rays were clear during one of his recent visits.
"The doctor called me extremely excited to let me know," Teena Wilhelm said. "He can only participate in the trial if his x-rays are clear. The clear x-rays are important not only because the cancer hasn't spread, but also because his treatment can continue."
Osteosarcoma is one of the most common forms of cancer that affects dogs, along with lymphoma, and mast cell tumors, a type of skin tumor.
"We see dogs with what are called mast cell tumors, which are a type of skin tumor that is very rare in people but fairly common in dogs, and then there are some other skin tumors that we see as well," said Dr. Corey Saba, an oncology professor at the University of Georgia College of Veterinary Medicine who works at the teaching hospital.
The UGA Veterinary Teaching Hospital sees over 25,000 animals each year. Oncology is part of the department of small animal medicine and surgery, with four medical oncologists, one radiation oncologist and three residents who have finished veterinary school and are training to specialize in oncology.
The oncology department also has about five technicians who work in radiation and medical oncology and administer chemo and work closely with patients and their families.
According to Dr. Saba, some common warning signs that dog owners see are lumps on or under the dog's skin, limping, a lack of appetite, and vomiting.
Like Enzo, many dogs who are diagnosed with cancer undergo chemotherapy treatments. At the UGA VTH, radiation is also an option.
"We have a radiation machine and it has the capability of doing stereotactic radiation therapy (SRT), which is newer to veterinary medicine," Dr. Saba said. "We do some immunotherapy with different cancer therapeutics like vaccines, and several clinical trials that are looking at something novel or trying to figure out doses for new things."
According to the National Cancer Institute, SRT is a type of external radiation therapy. The animal is positioned on the machine, which uses special machinery to precisely deliver radiation to the tumor. The total radiation dose is divided and administered over several days.
Treatments like these can be costly, which is why many families think seriously about whether they will pursue them. Depending on the type of cancer the patient has been diagnosed with, treatment can range from three months to about four or five months.
With costs per visit falling anywhere between $250 and $700, some families find themselves spending up to $6,000 to keep their pets alive.
"There are definitely some families who have spent tens of thousands of dollars treating their pets, so it is a big financial commitment," Dr. Saba said.
Not only is a cancer diagnosis financially draining, but the emotional shock of potentially losing a family member takes its toll on families as well. This was the case for Rhonda Nally, whose dog, Cooper, was diagnosed with B-cell lymphoma in February 2017.
According to the National Cancer Institute, B-cell lymphoma is a type of cancer that forms in B lymphocytes, or immune system cells.
Cooper, a 7 ½ year old black and white Belton Havanese, has been a fighter all his life.
Seven years ago, Nally received a call from a breeder about taking in a special needs dog who turned out to be Cooper. Cooper was one of six pups born to a Westminster best of breed winner and a mother who suffered from preeclampsia. Each pup developed cataracts because they couldn't drink their mother's milk and had to be tube-fed.
It was after this phone call that Nally took the tiny, hairy, black, and white pup in as her own, or her baby, as she calls him.
In December of 2016, Cooper's back legs suddenly stopped working. Nally and her husband rushed him to the emergency vet, who recommended taking him to the Veterinary Teaching Hospital instead. Cooper had a ruptured disc, so they performed surgery the next morning.
Eventually he was able to walk again, but when Nally took him back to the Veterinary Teaching Hospital for his two-month checkup in February 2017, the hospital staff said there was a problem and that they needed to run more tests.
"They called me the next day and said it's lymphoma," Nally said.
Lymphoma is not typically curable in dogs, but can be put into remission. Nally, who has three other dogs, wasted no time deciding what she would do for Cooper.
"I have no children. These are my children, but it never crossed my mind not to fight for him," Nally said. "It's not curable, but we bought time and he went into remission after the second week of therapy, and he stayed in remission the whole time he was getting chemo."
She was shocked at Cooper's diagnosis because she hadn't noticed anything wrong.
"I honestly think that maybe we might have caught it early because I didn't notice any lymph nodes or any signs of him being sick," she said. "I spend a lot of time with my dogs and I didn't notice any swelling."
Nally and her husband had already planned to move back to Watkinsville, but she packed up as much as she could and made her way back earlier than expected to start Cooper's cancer treatment.
A week after his diagnosis. Cooper started a CHOP chemotherapy protocol, named after the four drugs that the treatment contains: cyclophosphamide, doxorubicin, vincristine, and prednisone.
Cooper received all four drugs, took a week off, and then started the process again. The process lasted four cycles. He experienced bouts of vomiting, diarrhea, and at one point during his treatment, he would only eat salami, but his side effects, she said, haven't kept him down.
"It's so funny because he doesn't know he has a handicap and it's amazing," she said. "I probably should've made him into a therapy dog because he absolutely loves everybody."
Nally is no stranger to cancer or loss. She lost her mother, father, and brother to cancer before being diagnosed with it herself.
"I've had to deal with lots of cancer in my family," she said. "Different types, but all four of us, and then my husband got it."
As the sole survivor of a family plagued by cancer, Nally couldn't be happier to hear that Cooper's lymphoma is in remission, and thanks the Veterinary Teaching Hospital for their professionalism and the warm, welcoming atmosphere that they maintain for their patients and families.
She wanted to give back to the hospital when Cooper finished his treatment, and had a bell installed that families can ring when their pets finish their own treatment.
"It's a milestone," Nally said. "You have persevered through all these weeks. We wanted to give something to the chemo department that other people who are going through this would understand and appreciate, so when we finally got the bell mounted, they took us back there and we rang the bell."
Nally also says the process can be costly due to bloodwork, follow-ups, drugs, chemo, and other fees. Together, treatment can cost at least $1,000 a month. She has considered other treatments as well, including STEM cell treatment, which can cost about $7,000.
She decided against it initially because the process requires the dogs to be in an extended isolation.
"Cooper's people-oriented, he has limited vision and I just thought that was kind of cruel to do to him," she said. "I have to weigh what's in his best interest against what my heart says to do."
She has had to put other pets down, including her cats. These decisions, Nally said, were not easy to make.
Shortly after bringing in the new year, Nally took Cooper in to the UGA VTH for a monthly check-up. That's when she received more troubling news.
"A mom gets that feeling," Nally said. "They tested, and he was out of remission."
While at first Nally was open to clinical trials or other types of treatment, she decided against it.
"Even if I put him through chemo again, it won't cure him," Nally said. "No more sticking him and putting poison in his veins to fight an enemy that we could not beat."
Instead, Nally opted to put Cooper on prednisone. She also puts Cannabidiol oil in his food. It is a legal hemp oil that calms him down. She found out about the oil after joining some lymphoma groups online, researching, and checking with Cooper's vet.
Nally doesn't know how much time she has left with Cooper, but for now, she is enjoying every second. Cooper spends his days snacking on pepperoni rolls, gnawing on bones, playing with his siblings, and napping. She wants to make him as comfortable as possible while he's still here.
"Right now, he is happy and comfortable," Nally said.
To families who are currently facing the dilemma of treating their dog's cancer, Nally says to take it one day at a time.
"Just live it day by day," she said. "You'll have a couple of rough days, but you still have your baby."
As for Enzo and the Wilhelm family, things are looking up for them too.
"Doing the amputation, the chemo, and the trial drug through UGA's vet school, I feel like it has improved his quality of life because he was carrying around his leg and not using it," said Matt Wilhelm.
"He's one of the family, so what would you do for a family member?" he asked. "We did everything that we could do for him and are still doing it."