On an early morning in February 2020, the Market at Tate shop was a hub for student workers and those who wanted to purchase a snack between classes. With campus left deserted after Spring Break, on-campus jobs that were normally occupied by student workers have been left vacant due to campus closure and now presumably the shop looks empty consistently.
As coronavirus sweeps the globe, social distancing and self-isolation have become two of the most important words in our vocabulary. On March 16, University of Georgia students received an email most of them were expecting, the Athens campus had been closed for the remainder of the semester and all operations were being shifted online.
"Students are not allowed to return to campus until they receive permission from their institution, which will be forthcoming soon," University of Georgia President Jere Morehead said in the email.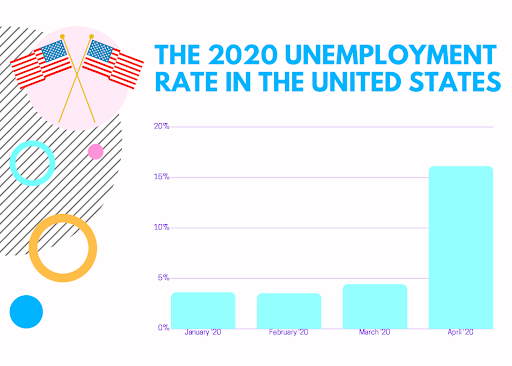 According to the U.S. Department of Labor, there are 36.5 million U.S. citizens who have filed for unemployment over the past eight weeks.
With the closure of campus operations, this means many students had lost their income with on-campus jobs—how would the university take care of its student workers?
Depending on the department, a portion of student work was transitioned to the internet, and students were forced to adjust to the "new normal."
Telecommuting and Flexibility
May Fong, a senior marketing major from Lawrenceville, Georgia, said almost as soon as UGA announced its closure for the two weeks after spring break, she was given an option to work online. Fong is a student assistant for the circulation desk at the Science Library on campus.
We were notified almost immediately following spring break that telecommuting would be an option for us with a list of available projects and activities we could do to fulfill these hours," Fong said in an email.
Fong said she started work on these projects immediately following spring break even during the closure. The new option provided quick communication with her supervisors and she was able to adjust quickly to her new schedule.
She was able to manage her time on the university's OneSource server, which she had done before the closure at her job on-campus. As for communication with her supervisors, student workers can communicate promptly, possibly even quicker than when school was in session on campus. Unlike many students on campus, Fong said each week she attempts to fulfill the number of hours she was able to work on campus with her online work for the library.
"I do various activities that are on the list provided that would fulfill the work," Fong said. "My goal is to have at least the same amount of [17] hours as I normally would if everything [wasn't closed]."
An Open Line of Communication
Not every student was as lucky as Fong, and some jobs were unable to be worked online. Katera Powell, senior international affairs and political science major from Moultrie, Georgia, worked in the Starbucks located in Tate Student Center, and due to the closure was notified she would be out of a job.
"We have a work group chat, so our managers were keeping us updated through GroupMe," Powell said in an email. "They told us that they were communicating with Food Service Administration about how to handle the situation and sent out more official emails about USG's decision to close campuses and put the safety of students first."
Powell said to her knowledge, she and her coworkers were not offered any type of compensation or emergency pay through student employment. But, she said that through her employers they have been sending out job postings for those who must find work during this time. She said her employers have also been messaging student employees to advise those who now need to file for unemployment or even consultation on discussing mental health struggles during this uncertain time.
"Communication between our supervisors has been very efficient … they have sent out job opportunities around Athens for students that absolutely had to work," Powell said. "They have provided guidance for the students that needed to file for unemployment benefits and kept our group chat available for those that need to talk to someone about their struggles during this time."
While Powell was disappointed about the loss of her job, she believes the university has done a great job of communicating with its student employees.
"Some departments are still open, so I've heard that some students are given the chance to still work," Powell said. "I find that to be very important since they recognized people still have responsibilities."
Career Counseling and Future Plans
From online on-campus work to panic over post-graduation plans, the university has attempted to provide counseling from a distance for students' questions regarding job availability. While classes and jobs have transitioned to online availability, so have departments of resources utilized by students like the UGA Career Center.
Whitney Prescott, associate director of external engagement and communications for the Career Center, said the office has done its best to help students in a time of uncertainty.
"Thankfully, we were able to transition the majority of our services and resources online very quickly," Prescott said. "To make it easy on students, we compiled a virtual resource landing page with all of the details."
Prescott explained while she is unsure of the future of on-campus work is for all of the departments on campus, as for student workers at the center it was determined on a case-by-case basis—a portion of its students can work remotely.
As for plans for the center and its employees, as long as school returns in the fall, all previous employees will have their job waiting for them in the Career Center.
Abby McGill is a student in the Grady College of Journalism and Mass Communication.