Youth voter turnout across the state of Georgia has been on a steady climb in recent years, but the 2020 election brought one of the highest nationwide surges in recent history of college-age individuals turning out to participate at their local polls
The Center for Information and Research on Civic Learning & Engagement (CIRCLE) reports that 17% of the state's voting population is made up of young voters, defined for the sake of consistent study as adult citizens eligible to vote in Georgia but younger than 30 years old.
Many counties featuring college towns also house disproportionate crowds of young students, as is the case with University of Georgia's campus. According to the data report shared by Georgia's Secretary of State as of October 2022, roughly 27% of the 67,807 total active voters recorded in Clarke County are between the ages of 18-29 years old.
Why It's Newsworthy: As the 2022 midterm elections approach and concentrations of young, first-time voters continue to grow in relevance for their recent political participation and anticipated national impact, now is a critical time to study the behavior and trends of young adults joining the local political realm — starting with the University of Georgia's campus in Athens-Clarke County.
Transitioning Into the 'Real World' of Voting
As outlined in GA Code § 21-2-215(g), the state of Georgia deems both public and private high schools, colleges and universities capable of a responsibility to "inform their students… of the availability of… voter registration and shall provide reasonable and convenient procedures to enable such persons who are qualified applicants to register."
However, a joint study on Georgia high schools' compliance with youth voter registration laws recently reported a significant decrease in the voter registration rates of 18- to 19-year-olds by 42% since 2018. Based on analysis completed together by the Fair Elections Center and The Civics Center of high school districts, this phenomenon can likely be explained by "a lack of consistent opportunities to register to vote in Georgia high schools."
The youth voter demographic already tends to experience challenges regarding turning out to the polls, especially those freshly granted the right to vote and simultaneously transitioning into college experiences.
The findings of the research report go on to argue it is crucial to build this "infrastructure for youth voter engagement in high schools" prior to graduation, yet also concludes that public school districts across the state of Georgia are generally struggling to provide proper resources for adequately achieving this goal.
But across college campuses, student organizations aim to consistently accept the responsibility of offering equal opportunity for engaging all student voices, hoping to push overwhelmed young voters to positively regard voting and civic engagement.
Cross-Campus Initiatives: UGA Votes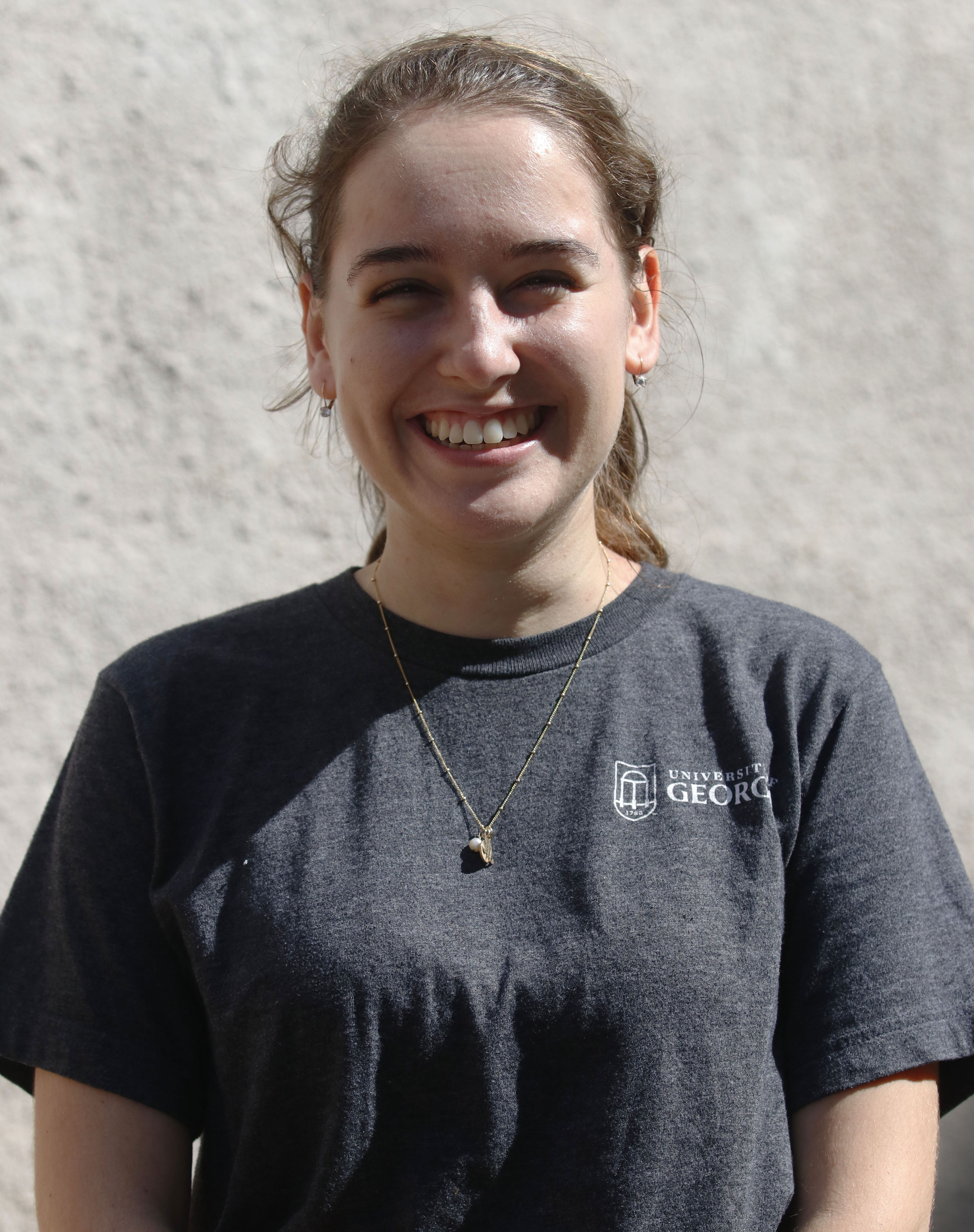 First-year students come from across the globe to live in Clarke County and attend the University of Georgia, with the incoming Class of 2026 listing in-state students from 152 different Georgia counties alone according to the university's Undergraduate Admissions office.
One year ago, University of Georgia student Mackenzie Buck found herself immersed in a new campus in a position familiar to many first-year college students: fresh out of high school, adjusting to her collegiate lifestyle and searching for opportunities to get involved.
Now, Buck is a sophomore majoring in political science, public relations and Russian, as well as the social media coordinator for the non-partisan organization known as UGA Votes that claims to be responsible for "empowering over 27,000 student voices at the University of Georgia."
"One of the things that we post is obviously about the deadlines, but then also how to vote if you're from out of state," Buck explained, about her role on the executive board for creating handy infographics that digitally circulate facts local to Athens-Clarke County election policies through the organization's social media accounts. "That's something that a lot of students don't know how to do, especially if you end up in Georgia and you're like, 'Okay, well if I live in South Dakota, how do I go about doing that?'"
Just like UGA Votes aims to achieve on a local scale, similar informative communication techniques are practiced by political organizations on campuses across the state. These wide-spread efforts for educating newly registered voters are crucial at a transitionary point in life when many may be looking for the helping hand most of all, seen reflected in climbing voter registration rates among young citizens.
Voting as a College-Age Citizen: Misinformation Breeding Inactivity
According to Tufts University's Institute of Democracy & Higher Education (IDHE), the challenge that many college campus organizations need to be tackling in preparation for the midterm elections on Nov. 8 is not necessarily rooted in youth voters' registration rates; increasing yield is the real priority.
The national student yield rate is defined as "the percent of registered students who then followed through and voted." This statistic saw an 11-point increase between the 2016 and 2020 elections, rising to 80%.
Our primary focus is voter registration and voter education, whatever form that takes," said Buck.
Even with today's digital age welcoming online registration and informative voter guides for support, young college-age voters navigating the first election cycle tend to be kept away from casting their ballots by claiming a lack of access to convenient registration opportunities and updated election information, according to Buck's experience.
For college students claiming stricter deadlines and physical distance prohibiting them from voting in the midst of a busy semester, campus organizations like UGA Votes aim to clear the air by shifting attention to the internet's connectivity
Social Media: Political Expression Across Platforms
"Especially with Georgia, given that it has been a swing state in the past, I think that young people are definitely a demographic that is targeted," Buck estimated based on personal experience creating similar digital content of her own with goals of informing others on a mass communication scale working with UGA Votes.
According to CIRCLE's Youth Electoral Significance Index (YESI), Georgia is one of ten states in which young voters are anticipated to have the highest potential to influence midterm election results for both the Senate and Governor races respectively.
"Social media is probably the primary means by which political actors try to influence young voters. It's easy for things to go viral on Tik Tok," Buck claims. "You get these little sound bites that are easiest for people to digest, especially as busy students."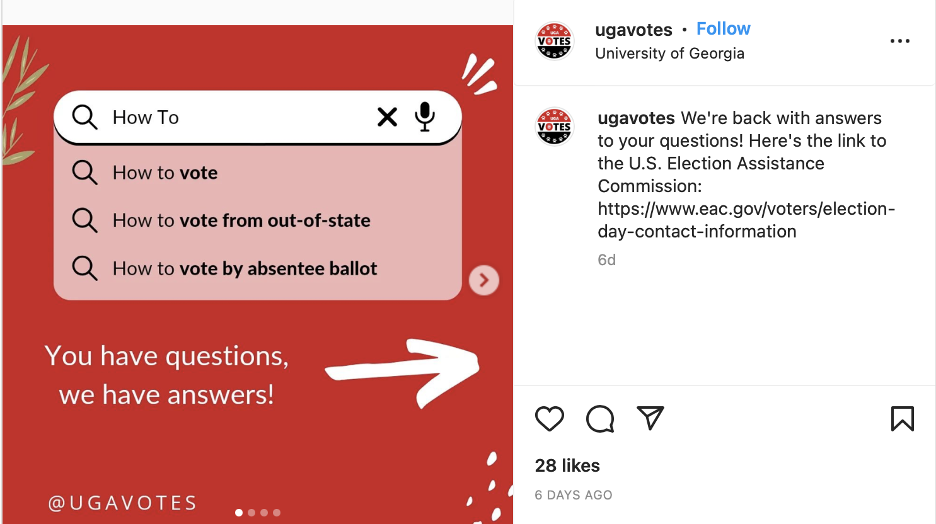 According to a CIRCLE data report citing a Tisch College poll conducted prior to the 2020 elections, the percentage of young voters aged 18-24 who reported receiving their information about the election from digital platforms in 2020 had increased by an average of 25 points since 2018.
Across the state, many campus organizations just like UGA Votes are likely working to propel young voter participation to the next level, as executives like Buck tackle social media platforms by translating local elections information that appeal to their audience's digital presence.
Sosebee Speaks Out: Advice for the First-Time Voter
To navigate the intricacies of voting laws and registration requirements as they vary for each student across county and state lines, many UGA students work towards promoting active engagement and communicating trusted resources amongst the local community ahead of Election Day.
As soon as the clock struck 8 a.m. on Oct. 17, early voting officially began at the Athens-Clarke County Elections Office.
Charlotte Sosebee, the director of elections and voter registration for the Athens-Clarke County Elections Office, describes part of the job description to prepare first-time voters on what to expect, with less than a month's countdown until Election Day's ultimate arrival on Nov. 8, 2022.
Educate, educate, educate – you just gotta do it," according to Sosebee, ACC Director of Elections and Voter Registration.
"There are certainly a lot of changes … If anybody has not voted, or if a voter has not voted since the 2016 elections, they're going to see changes as it relates to the election format," said Sosebee.
Sosebee went on to note that many voters may not be fully aware of the intricate political process that leads up to Election Day beyond showing up to cast their ballot, but she personally believes it is her responsibility to "put that information out there" for the sake of absolute transparency and inspiring the Clarke County voter turnout rates, independent of age.
Cassidy Moore is a senior majoring in journalism with a minor in French.