By: Chelsea Beimfohr April 14, 2016
Crowdfunding websites like Go Fund Me and Kick Starter are becoming an increasingly popular way to raise money for everything from medical bills to education—and these days, pencils and paper are no longer the bare necessities of a classroom.
More than two hundred eighty thousand teachers across the country are using crowdfunding websites to bring unique items to their classrooms.
Forbes.com defines crowdfunding as "The practice of funding a project or venture by raising a small amount of money, from a large number of people. Typically via the internet."
Madison County High School teacher Kelly Cassidy wanted to purchase drones to teach her environmental science students about land surveying and radiation, so she turned to crowdfunding.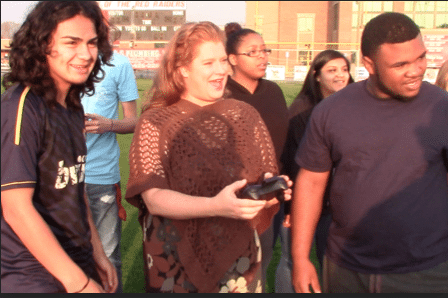 "It was our only option. We just don't have any money. Education is so poorly funded right now," Cassidy said.
(Cassidy shows students how to fly a drone)

According to the National Center for Education Statistics, the United States is projected to spend more than $634 billion dollars on education over the 2016 school year. But Cassidy says, when you break it down, this statistic doesn't amount to enough money to spend per student, at least in her case.
"[I've] got to do labs for one hundred fifty seven kids for an entire year, and when you have six bucks a kid you don't have a lot of wiggle room," Cassidy said.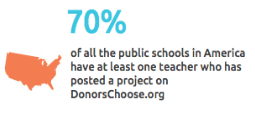 Cassidy posted a request for drones on donorschoose.org, a crowdfunding website created specifically to fund educational projects.
Chris Pearsall of Donor's Choose says these requests have raised more than four hundred twenty million dollars for educational projects in sixteen years.
One a project is fully funded, Donor's Choose takes the money raised, purchases the items requested by the teacher, and ships them directly to the classroom.
"And that's for the sake of transparency. [This way] our donors know exactly that the materials they think they supported were actually sent to the classroom, and the project was executed as the expected," said Pearsall.
But not all crowdfunding websites are as transparent as Donor's Choose.
KickStarter.com, whose mission is to help artists, musicians, filmmakers, and designers raise money for creative projects sends mone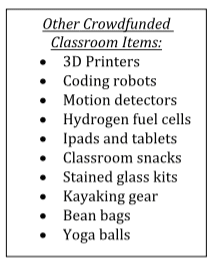 y directly from donors to receivers.
According to a statement on their website, "Creators are responsible for their projects. When you back a project, you're trusting the creator to do a good job, so if you don't know them personally or by reputation, do a little research first."
In 2015 the Federal Trade Commission busted Erik Chevalier, who raised $122,000 on Kick Starter to produce a board game that never materialized.
"Donors should be able to trust their money will actually be spent on the project they funded," said FTC Director Jessica Rich.
But where else does your money go?

While crowdfunding websites create an easy way to raise money, they also have to make a profit.
Donors Choose covers its administrative costs through an optional 15 percent donation that donors can choose to allocate as part of their project donation. Whereas Kick Starter and Go Fund Me both automatically deduct at 5 percent fee from each donation made.
Crowdfunding creates and endless realm of possibilities, but experts suggest you research how your dollar will be spent the next time you donate to a classroom or an online campaign. Make sure your donation is benefiting the minds of our future.