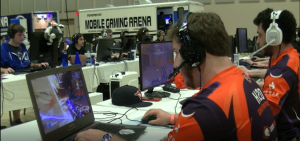 A UGA gaming organization called eSports at UGA hosted almost 600 gamers in The Classic Center during its first southeast gaming exposition.
Last weekend, more than 500 gamers from all over the southeast gathered in The Classic Center to compete in teams during Athens Online, the first gaming exposition hosted by gaming club, eSports at UGA.
Melee brackets were configured as teams competed in games such as Call of Duty, League of Legends, Counter Strike: Global Offensive, Super Smash Bros, Overwatch, and more.
The Vice President of UGA's eSport chapter said the expo was able to become such a success because of the support of UMG Gaming, mega-LAN event provider and online gaming host.
Ryan Summers, the project manager of UMG, said Athens Online was the perfect event to bridge the gap between gamers who can only play for fun and those who want to compete at expositions such as these.
"It sounded like something that really aligned our vision with their vision," Summers said. "Our vision is to bring eSports to college students who might not otherwise be able to attend an event because of financial reasons, not be able to attend an event for whatever reason it may be."
Kwak said he was excited at the turnout of the show because the organization wants to show gamers at UGA that they too are represented among the 700 clubs at the university.
"We were hoping to get more exposure for our club, eSports at UGA, through this event, showcasing that this is what we do, this is what eSports is about, bringing players together for an event, really building that bond through teamwork," he said.
Athens Online provided entertainment for more than just University of Georgia students. William Yao, a student from Georgia Tech, came to the event even as his school hosted its own gaming event the same week.
"For me, gaming is an escape from reality," Yao said. "Sometimes there's just too much going on in life right now and you just want to escape from it, take a break from everything, then come back with a calm, collected mind to whatever you're focusing on in real life."
Cal Frenda, a student who drove from Alabama to attend Athens Online, said that he knew this trip was worthwhile when eSports staff members brought out seven computers for his team after his friend's computer went out.
"I just wanted to give (the staffers) a shout out because the tournament was run so well," Frenda said. "They really, really worked hard."
Reagan Beavers, Secretary of eSports at UGA, says while they've never hosted an event of this many participants, everyone's combined efforts allowed the event to be nothing short of a success.
"It was really, first, our ambition and determination and then everything else just came with it," Beavers said. "Everybody's just said that they loved it. It was so much fun."
If any of you gamers might have missed it this year, don't worry; eSports at UGA says it plans on making the tournament an annual event.
By: Chi Warui