Dreams can take a month to achieve, a year, a decade or never happen.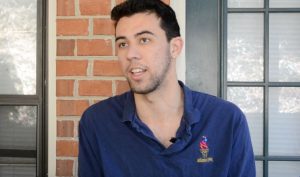 UGA student Rafael Paz Abromson, from Brazil, achieved what he's been dreaming of for 12 years.
He finally became a U.S. citizen two weeks ago. Abromson has wanted to be a U.S. citizen since he was seven. He was turned down for a green card from the United States Citizenship Immigration Services the first time he applied.
"The conditions weren't right for me for them to accept me," Abromson said. "They knew if I probably came to the U.S. I would probably end of living here."
Though Abromson didn't get a green card and had to stay in Brazil his mom did. She worked three jobs as a typist, Wendy's worker, and house cleaner.
"I never went without anything because of my mom," Abromson said.
Abromson's mother spent her free time in the library learning English. That's where she met Abromson's dad. After dating a while, the two flew to Brazil, so the father could meet Rafael. They all traveled to two embassies in Brazil and finally were able to get Rafael a green card.
Abromson finally became an American citizen on February 10th.
"A lot of my friends made Trump Jokes," Abromson said. "They said: you're not going to get deported anymore. We are so happy."
Abromson said though his friends' jokes are not serious and would never come true. He still has worries for people who are working on the citizenship process now and in the future.
Wednesday, secretary of Homeland Security, John Kelly asked his department to enforce the recent executive orders President Trump implemented. The order included the hiring of 10,000 more officers in the department to help uphold the immigration laws and border controls.
Abromson said he believes in humanity and creating people like a human being rather than a tool or an object and working together to rather than divide. Dividing the nation to receive votes was easier than bringing people as one.
"There is a lot of fear in this country," Abromson said. "When people are afraid, this is their decision. I guess that is just America's response to bettering the country."
Follow @GradyNewsource on Facebook and Twitter for breaking news and top stories.
By: Mary Ramsaier