Residents of Oconee County were "up in arms" after the Board of Commissioners approved an Amendment to expand Calls Creek Wastewater facility.
The plan says they will have to install pipelines along the creek because of the increased amount of waste that is filtered and poured into the creek. Neighbors of Calls Creek are worried about how the plan will disrupt the natural environment and wildlife in their backyards once construction begins.
Homeowners at the meeting wore t-shirts in opposition to the plan. They are members of a non-profit organization called Friends of Calls Creek. There are 104 members who aim to bring awareness to residents of Oconee County about decisions the board makes that would affect them. Wayne Haynie, Utility Department Director, proposed an update to the 2005 plan that has undergone changes that now include a pipeline. He says the project would last anywhere from 12 to 18 months and cost over 13 million dollars.
"My goal is to represent Oconee County in improving the wastewater treatment capacity for our county, we are well over committed, and we have a lot of environmental issues associated with our plant that need to be corrected so we have put forth a proposal that takes care of all those things in a cost effective manner," says Haynie.
Cindy McGarvey, vice president of Friends of Calls Creek, pointed out the amount of property and scenery that would be destroyed if construction starts. She says that she has done some research on other alternative routes the sewage could flow that does not involve Calls Creek. Haynie wants homeowners like McGarvey to rest assure that the plan is the way to go.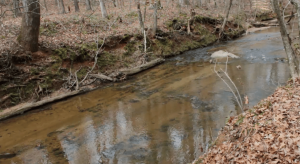 "It addresses our growth, it addresses our over commitment to previous sewer capacity needs in the business community, it addresses the environment, and it respects the homeowners," says Haynie.
McGarvey says people along the creek support the Board of Commissioners, but they don't want to disturb the natural state of the creek and give up the site.
"I don't understand how you are going to bring the trucks in here and put a pipeline in. Whenever you do that, you'll have to clear a path. Well if you look down there, they'll have to take the deck off," says McGarvey.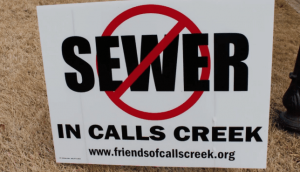 Signs are posted around Oconee County that express the opposition to the sewage plan. Members of Friends of Calls Creek have signs in front of their homes.
Christy Lowe is another homeowner with a husband and two children. She watches her daughters play in the creek everyday. Lowe is has questions about the buffer between her home and the creek and how that will affect the time her children spend in it.
"What are we going to be looking at now that they are planning to do this from our deck here to where we watch the kids play? Is it going to be safe for the kids to be down here? Is this the best way or the easiest way?" says Lowe.
Haynie says the board is always looking to plan for the future. If Oconee County is still growing and they find a new technology in substitute of the pipelines, they might take that route instead but for now the current plan is still in motion according to Haynie.
Follow @GradyNewsource on Facebook and Twitter for breaking news and top stories.
By: Sabrina Burse